Customer Reviews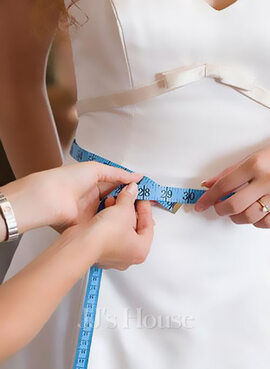 Custom Size Fee
#034004981
List Price: £17.00 Save £0.00
By tprtwin4dogs
2016-05-08 20:25:35
I have bought several dresses from them and absolutely love everyone of them! They fit perfect every time. I am tall and they make the adjustments like I need. Their workmanship is exceptional. I go on cruises and order a different one each time. I then hand them down to my twin.

By tamryn_c
2016-08-17 21:04:27
measurements where spot on
By tim
2016-04-02 08:11:54
So easy for custom sizing. Complete novice here and was able to get all measurements per their direction. Fantastic!
By mathmastertiki
2016-03-13 15:19:06
Both the dress and wrap fit perfectly - I had made an error with my measurements and they contacted me to double check the numbers - that is excellent attention to detail and customer service.
By lrollins50
2015-09-08 18:38:59
The wrap fits! I was generous with my measurements this time and I finally got something that fits!
By srmitchell1977
2015-07-13 08:41:26
This was an excellent service for a reasonable fee! My dress came exactly as I specified and fits perfectly!
By amerahha
2015-06-05 10:28:12
Ultimate and very comfortable Service

I have asked for a special size for me Czykt was measured very cool.

Thank you
By rocs08
2015-05-04 21:35:30
I have used the custom sizing for a dress & two wraps. Each item was spot on when they arrived! I will always use JJs House. They are the BEST! The team are truly amazing!
Thank you JJs House....
By Cristina Marquez
2013-09-11 17:35:32
FEATURED REVIEW
When I ordered my lovely dress I could not simply 'pick a size' as my measurements are not typical. I happen to be a woman with a size "L" on top but for my bottom I am a "S". I gave my measurements that I took & my dress fits wonderful! I do have to say I was reluctant because I was ordering online "site unseen". I definitely love how professional my dress looks sewn, inside & out. Definitely worth the $19.99. I will recommend JJs House to anybody that is in need of the products offered.

A very happy & grateful customer,
Cristina Marquez
By Lareina
2013-06-25 00:44:12
FEATURED REVIEW
i bought the dress A-Line/Princess One-Shoulder Short/Mini Chiffon Cocktail Dress With Ruffle 016021185 with custom size. you customized the length of this dress for me. made it a little longer. the dress is fitted. AMAZING!the length is what i need. thank you guys. i like the dress very much. surly i will buy more dresses on your website and introduce your website to all my friends. thanks again for your good service and beautiful dress!