Customer Reviews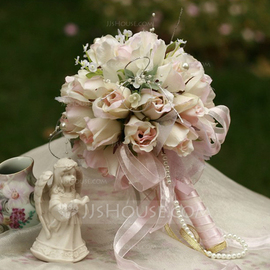 Delicate Round Satin Bridal Bouquets
#124032097
60% OFF /
List Price: £34.00 Save £20.00
By bluestar042588
2016-10-21 06:54:23
By mixavolk1972
2016-05-13 09:50:46
By prettiestvicki
2016-03-06 11:15:49
I placed my order on February 20th, 2016. My shipping label was created on February 25th and I received my bouquet #32097 on February 29th 2016 in Atlanta, Georgia. I did pay for the expedited shipping (3-6) business days.

I like this bouquet. It looks very realistic and the color will match perfectly with my Pearl Pink bridesmaid dresses from JJs House.

By ehw2001
2015-10-22 10:45:40
FEATURED REVIEW
Beautiful cream and pale pink bouquet. It went beautifully with my wedding dress. It was exactly what I wanted and a very good price.

By fome.orakpor
2015-03-06 09:43:46
FEATURED REVIEW
By crissy_wright
2015-01-27 18:47:24
FEATURED REVIEW
By wbrown1214
2016-12-01 02:56:13
The product arrived on time and was beautiful. Though I expected it to be bigger which may have been at fault of mines for not checking the dimensions but my fiance and I love it.
By teresa.crawley1
2016-11-17 10:04:29
The bouquets were absolutely beautiful!!! I would recommend these to anybody!!!
By jenresnick412
2016-10-10 02:59:46
Beautiful, appears as is in the picture. Great price for the item. Perfect for junior bridesmaids.
By bperrussot
2016-09-08 09:23:54
Beautiful and looks just like the picture. I was pleased with this order