Customer Reviews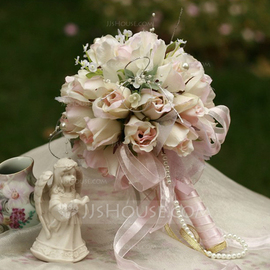 Delicate Round Satin Bridal Bouquets
#124032097
60% OFF /
List Price: £34.00 Save £20.00
By bluestar042588
2016-10-21 06:54:23
By mixavolk1972
2016-05-13 09:50:46
By prettiestvicki
2016-03-06 11:15:49
I placed my order on February 20th, 2016. My shipping label was created on February 25th and I received my bouquet #32097 on February 29th 2016 in Atlanta, Georgia. I did pay for the expedited shipping (3-6) business days.

I like this bouquet. It looks very realistic and the color will match perfectly with my Pearl Pink bridesmaid dresses from JJs House.

By ehw2001
2015-10-22 10:45:40
FEATURED REVIEW
Beautiful cream and pale pink bouquet. It went beautifully with my wedding dress. It was exactly what I wanted and a very good price.

By fome.orakpor
2015-03-06 09:43:46
FEATURED REVIEW
By crissy_wright
2015-01-27 18:47:24
FEATURED REVIEW
By jenresnick412
2016-10-10 02:59:46
Beautiful, appears as is in the picture. Great price for the item. Perfect for junior bridesmaids.
By bperrussot
2016-09-08 09:23:54
Beautiful and looks just like the picture. I was pleased with this order
By cakesshaw
2016-04-14 15:12:26
My daughter was surprised and pleased. She did not want to throw and asked them to return it. It was so lovely, of course they didn't return it. May have to order her another.
By connie.oliver
2016-04-07 05:02:29
Stunning and very well made. My mother will look beautiful when she walks in carrying this bouquet with her pink dress.