Customer Reviews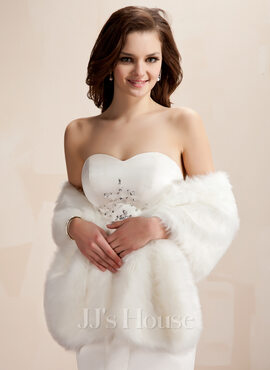 Faux Fur Wedding Shawl
#013020426
List Price: £35.00 Save £9.00
By genyarhea
2016-01-22 06:39:11
By marianna.khoury1
2016-10-01 21:41:48
Going to use this for my winter wedding.
By Katlouthomas44
2016-02-04 16:04:02
I didn't get to pose in a picture with this faux fur shawl however it was beautiful. It was even better than the picture and more than I expected. I would recommend it to anyone.
By leemthembo
2016-01-31 02:06:40
This shawl is just what I was looking for....thanks JJHOUSE...will always recommend you
By mpazmontes
2015-07-02 07:12:03
Lo que pedí es exactamente lo que recibí. Me gustó muchísimo, especialmente por la seriedad en las fechas de envio acordadas.
Lo recomiendo ampliamente como asimismo, comprar a traves de JJ house
Rating Excelente
By Mana
2015-02-16 07:08:26
I bought and I liked the softness and color
By cherinelchimi78
2014-12-09 20:29:26
item is so lovely,fast shipping,great quality.
nice customer service.

thanks
By lourene.morris
2014-11-19 20:31:31
This fur shawl will be nice to wear for winter wedding as bride leaves church.
By cherinelchimi78
2014-11-15 05:10:37
the product is so nice
i got it for my wedding.
i love it
By lisal751
2014-06-17 06:44:44
Very elegant shawl. Got one for me and one for each of my bridemaids to wear. Can't wait to see us all wearing them at my winter wedding. Thanks JJ's for an easy no fuss transaction. The shipping was very fast.