Customer Reviews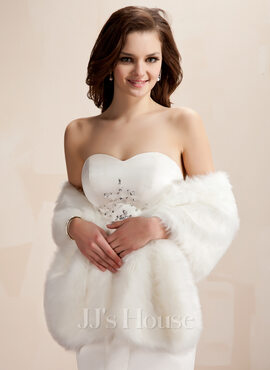 Faux Fur Wedding Shawl
#013020426
List Price: £35.00 Save £9.00
By amanda.s.myers80
2016-11-14 06:48:33
By genyarhea
2016-01-22 06:39:11
By carterbeverly
2016-11-24 16:37:49
Absolutely Stunning. Impressive wrap. Soft, does not shed, lining is pretty darn nice!
By jen-g123
2016-10-28 17:38:22
Beautiful perfect for our winter wedding
By marianna.khoury1
2016-10-01 21:41:48
Going to use this for my winter wedding.
By Katlouthomas44
2016-02-04 16:04:02
I didn't get to pose in a picture with this faux fur shawl however it was beautiful. It was even better than the picture and more than I expected. I would recommend it to anyone.
By leemthembo
2016-01-31 02:06:40
This shawl is just what I was looking for....thanks JJHOUSE...will always recommend you
By mpazmontes
2015-07-02 07:12:03
Lo que pedí es exactamente lo que recibí. Me gustó muchísimo, especialmente por la seriedad en las fechas de envio acordadas.
Lo recomiendo ampliamente como asimismo, comprar a traves de JJ house
Rating Excelente
By Mana
2015-02-16 07:08:26
I bought and I liked the softness and color
By cherinelchimi78
2014-12-09 20:29:26
item is so lovely,fast shipping,great quality.
nice customer service.

thanks