Customer Reviews
[Free Shipping] Fabric Swatch — Single Color in 4 materials
#033066283
List Price: £5.00 Save £3.39
By P.gann
2016-10-12 01:20:43
The swatch came quickly and I love the colour! I have now ordered the dress in this watermelon colour for my bridesmaids. Love how cheap it is to buy a swatch too and would recommend to anybody if they're not sure about the colour. Thanks JJ'S house!

By peterson5211
2016-10-05 10:05:43
I purchased 3 swatches of blue fabric in order to see them personally and buy the best color dress for my daughter's wedding. This was the best idea ever. I could see and feel the fabric and know which color to choose!!

By ctcalland
2016-10-04 10:02:15
The fabric samples are great!! I was unsure how the color would look with the rest of the decor, so having an actual piece of the fabric is great! Highly recommend ordering!

By cthompso37
2016-10-02 18:53:48
FEATURED REVIEW
Our dresses were perfect! Exactly what I was wanting and everything I imagined for our vintage wedding!

By sammihigg
2016-09-29 14:30:48
By cruse.jennifer
2016-09-28 13:50:32
The samples helped me decide whether I wanted my dress in gold or champagne. I'm glad that I ordered samples first.

By aehatfield82
2016-09-22 06:32:11
I found a beautiful dress for my flower girl but I wasn't sure which fabric and color to choose. The swatches are perfect for making the decision. Thank you for offering this wonderful product!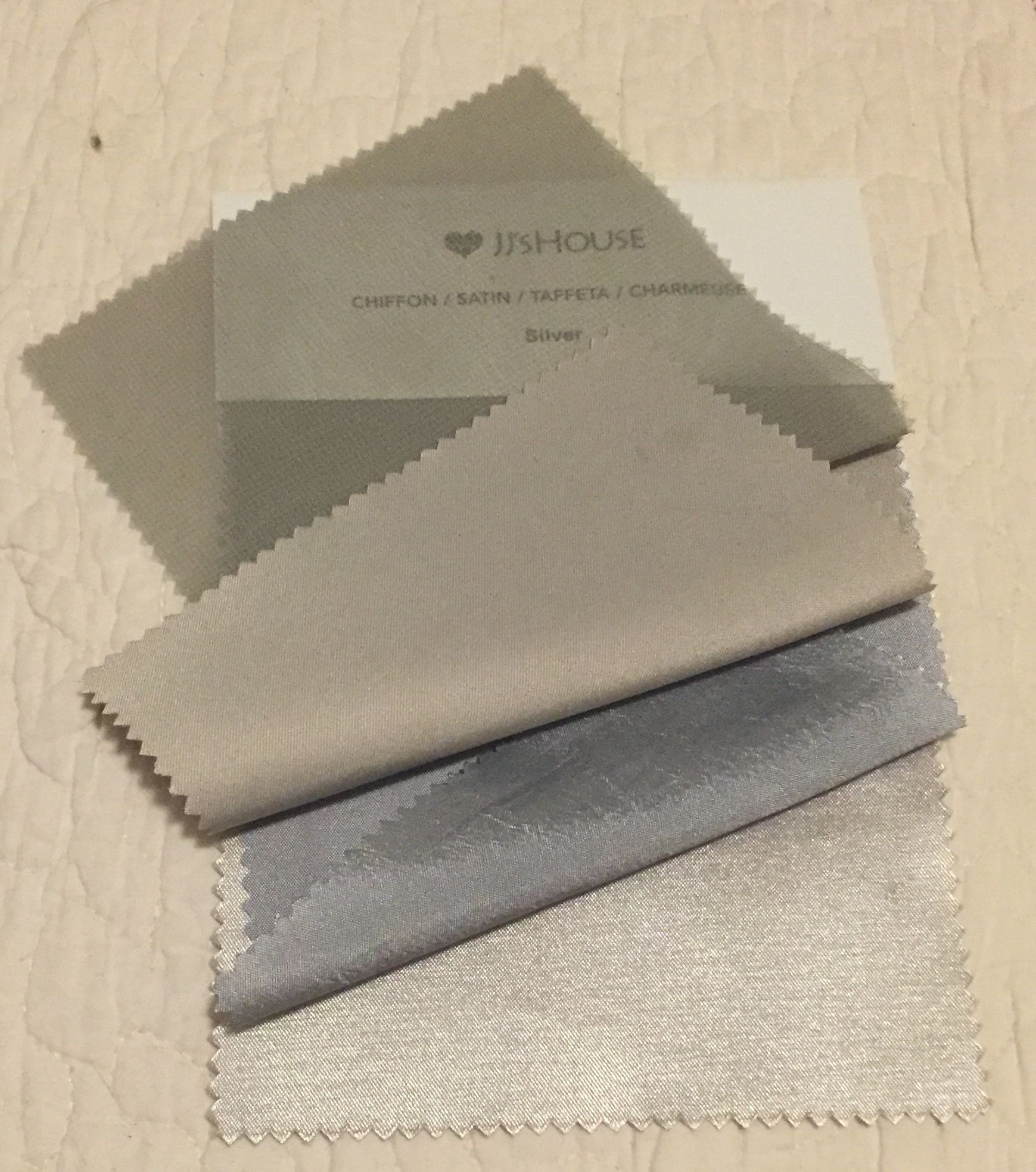 By candicelashayg
2016-09-21 23:11:16
By kirstenrr96
2016-09-21 19:17:14
Come super quick. It was nice to be able to see how the different fabrics look in white. I got the swatch to make sure it was the a bright shade of white, which it is.

By pkedrn
2016-09-17 13:30:33
My color swatches arrived quickly and packaged to protect the fabric! I t has definitely allowed myself which color will best suit my Mother of the Bride dress choice. JJ House is wonderful to work with and I cant wait to order my dress from them