Customer Reviews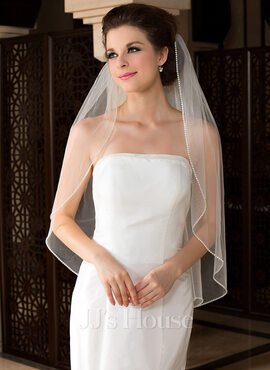 One-tier Fingertip Bridal Veils With Beaded Edge
#006036616
List Price: £35.00 Save £21.00
By meganoakes
2015-06-12 07:40:34
The stones were bigger on the edge of the veil then they looked in the picture, however still a beautiful veil at a great price!!

By jasmine_kisses
2015-06-12 03:34:14
Very beautiful product that arrived very quickly. Great quality and i cant believe i got it for the price that i did. I was not disappointed at all and i recommend ordering from JJshouse in the future.

By jdfelts0608
2016-10-17 17:49:42
Very nice veil for the price. I received exactly what was described and it looked elegant with my dress.
By sarah_prillo
2016-09-14 11:58:24
It was exactly what I expected. The beans are very nice. It stays in your hair easily.
By holcombellen5
2016-08-25 06:15:55
This Fingertip veil will be perfect for my daughter's wedding. It is light and exquisite which will enhance her wedding dress well.
By nylee629
2016-07-04 18:56:54
The veil is perfect length. I'm 5'9'' and it is long enough where it ends just below my waist.
By nani1180
2016-04-18 23:15:14
This looked different than i thought but ok to wear it.
By txtclark29
2016-03-28 09:18:40
Beautiful. Exactly like the picture. Put together well and a good price.
By bunnogirl
2015-10-08 05:59:34
Very good. Lovely beading.
By katherine.cossette
2015-09-29 08:09:31