Customer Reviews
Trumpet/Mermaid Sweetheart Chapel Train Organza Wedding Dress With Ruffle
#002056468
60% OFF /
List Price: £525.00 Save £315.00
By tenisha3793
2016-09-20 05:22:33
The dress is perfect everything I expected an more it looks like the picture. I recommend this site. The dress was a great price an good quality an shipped rite on time no delays.

By wedding_d
2016-09-04 18:30:03
This dress was amazing for the price! It needed a bit of altering but still turned out ok. Note: there are several large crystals that I had removed because they looked more gray than clear and it was not the style that I liked. Other than that you can't beat the price for the quality, especially for a dress that is only worn for half the day and never again.

By Jessica
2016-09-04 14:31:36
I had the train hemmed off because our wedding was less formal and outdoors. The dress arrived quickly, it was made well and I got nothing but compliments. I'm very happy I took the chance. I tried on tons of dresses and I just couldn't stop thinking about this one. I never found anything I liked as much.

By lauramccullough7
2016-07-31 09:20:07
FEATURED REVIEW
Dress was made to measure and arrived two weeks after placing the order. The seamstress work was beautiful and the fabric was gorgeous and was generous - especially in the beautiful train. I got sooo many compliments on the dress and the few people I told the price to couldn't believe the value. Thank-you JJ House!

It was not as ivory coloured as the photo suggested (but i preferred it actually) and the inside lining had to be taken up as it was too long to walk in and tripped me up under the dress. However, those are only minor areas and the value of the this dress is incredible and out weighed them. I tried many on at bridal studios and this dress was about 1/5 of the cost and just as beautiful (even more so in some cases).

By ladykira4000
2016-06-17 09:00:21
I am very pleased with my decision to purchase my dress through jjhouse. I was skeptical about ordering the most important dress online but everything worked out great. My dress arrived quickly and it fits great. If I had to do it all over again I would.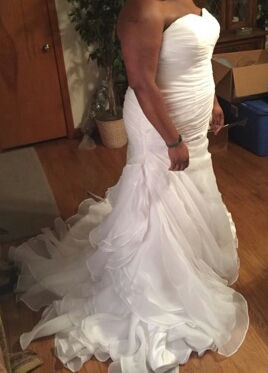 By cortniwalker
2016-04-17 09:38:39
By stoddardstuff
2016-02-11 10:27:10
Excellent customer service. Very helpful. We ordered this with only 3 weeks before the wedding and it arrived in plenty of time. The dress was beautiful. Slightly larger than measured, so that might be a factor.

By debrah_estuya
2015-11-04 17:46:57
I am truly happy when I see the dress! the quality is really very good, I find it simple yet elegant. Thank you very much JJs House!

By zevahc_11
2015-09-01 19:20:18
Me gustó mucho mi vestido. Llego muy rápido . Solo necesitó unos pequeños agustes. Muy buena calidad.

By castillokenia83
2015-07-27 11:57:21