Customer Reviews
A-Line/Princess Halter Knee-Length Chiffon Homecoming Dress With Ruffle Bow(s)
#022003360
List Price: £164.00 Save £87.00
By therezita6
2016-01-14 06:20:47
An absolutely stunning dress! Just as pretty as pictured. Got a custom size, and it fits perfectly. It's made from a pretty material and looks like a quality dress. So happy, and will certainly order from you again.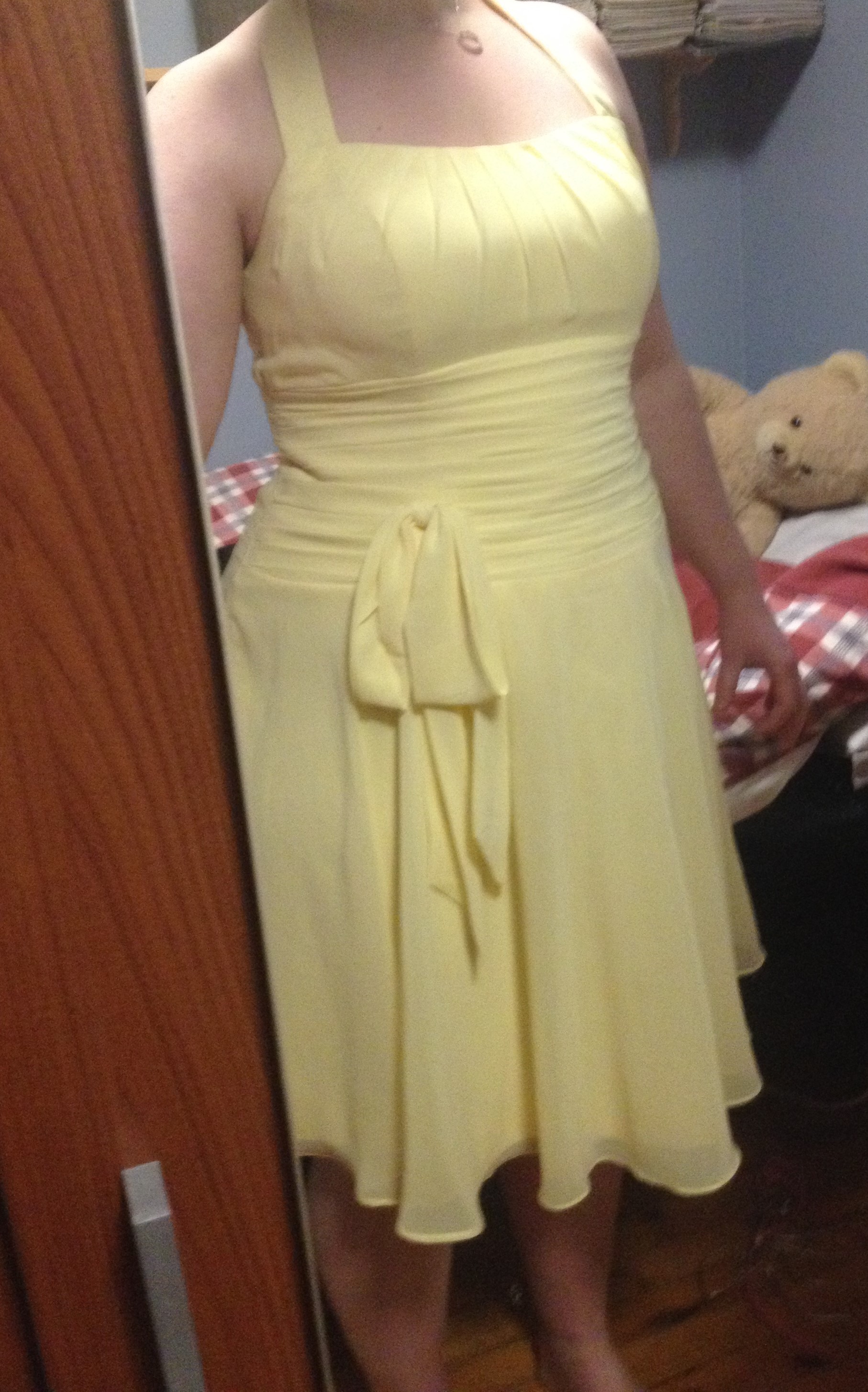 By gaillehmann
2013-09-21 15:13:54
FEATURED REVIEW
I just received this dress. Love it Great quality. Fits perfect. I will be ordering my 2 formal dresses from here very soon See picture

By albreeforrester
2015-04-27 20:55:06
A beautiful dress that fit perfectly. Came in quickly and looks absolutely stunning. Would definitely order from here again.
By Jasmine
2014-09-28 01:27:39
Wow! The dress is wonderful. Thank you.
By Angelia
2014-09-27 23:43:03
The colour of the dress is amazing.
By Susan
2014-09-14 01:40:28
Wow!!! Nice dress with beautiful color!! This is the right dress I am looking for!! I am happy with it. It goes well with my shoes. Oh, Thank you for the dress.
By Maria
2014-09-03 02:00:03
This dress is perfect and i love it.
By penelopemongey
2014-02-18 08:33:35
I am so delighted and thrilled with this fantastic service. I chose a gorgeous dress and in my excitement I didn't review the time involved with making and shipping however I didn't need to worry about it because once I had contacted them letting know my timeline and that I was based in Ireland they were on the case and my dress arrived in a very short space of time.
It is wonderfully made and fits perfectly. I would recommend the custom option. I couldn't stop recommending this to friends it is brilliant thank you to everybody involved with making my dress for me
Reply by JJsHouse 2014-02-19 01:07:46
Dear Penelopemongey, thank you so much for your recognition of JJ's House. We are so happy to offer a wide selection of couture-style dresses to the customers. It is our responsibility to ensure you look your best and different on every event.
By janb.byrne49
2013-12-28 17:45:43
The dress did not fit and they would not refund my money. Do not buy, you will be sorry.
Reply by JJsHouse 2013-12-29 01:52:56
Hi Janb.byrne49, thanks for posting your feedback. I apologize that we did not meet your expectations. We want you to know that you are very important to us and we truly appreciate your comments.I hope you can indulge me by sending the specific details of your experience via feedback@jjshouse.com. We would like to have better understanding of the issue and resolve your concerns promptly and to your satisfaction.
By Mia
2013-10-31 02:39:51
FEATURED REVIEW
I love the dress so much when I received it. It fits me well and looks very beautiful. The design of the dress is very unique and the color, daffodil, make me refreshing. In a word, I am very satisfied with the dress. It is a successful shopping experience for me. I will come to the website next time.