A-Line Off-the-Shoulder Sweep Train Chiffon Prom Dresses With Ruffle
#105700
Product Reviews
Write a review
Rachel Funchess
2019-05-21 19:38:15
THANK YOU for sending me such a lovely dress for this shoot! YouTube review will be up soon!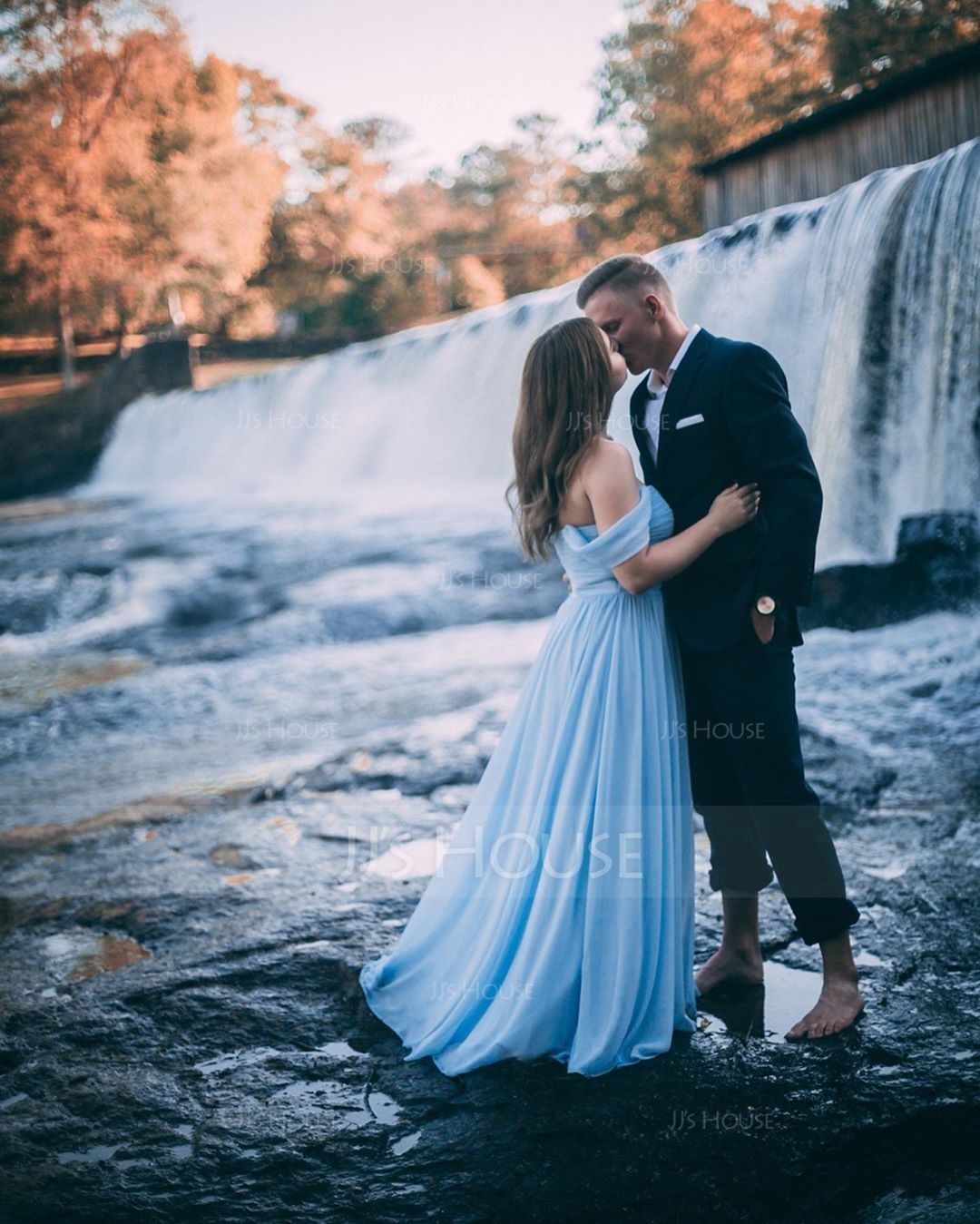 avriljclark
2019-03-27 05:26:26
There is always a worry when you order from a China fashion house however my experience in the past has been brilliant so after reading the reviews we ordered this dress as a custom made one for our daughter for her prom.

Within 3 days the dress had been completed and shipped and we received it exactly withing the delivery time stated, just over 2 weeks from ordering to delivery, what a service!

The dress was packaged safely in a zip bag, in a sturdy box. The quality of the material was high and the stitching and how it was made was spot on (my mother was a dressmaker so it is something we always look at). The design was exactly the as the picture and the colour was as expected.

The fit was good and a slight allowance was been made on the provided measurements (as it stated) which would have been fine if it had not been a strapless dress so needed to be taken in by 1cm just to ensure it didn't slip our daughters dignity. All round the top was the usual rubber type tape to stop slippage anyway. The dress was long, again due to the extra allowance, but with high shoes it was the right length but maybe still slightly long but our daughter says it is perfect. My advice would be to knock 1cm off the persons height measurements anyway but maybe more if low shoes were being worn.

The bit that goes over the arm was baggier than is shown in the picture but again our daughter loved it as it was and insisted we didn't take it in.

All in all we feel this was a great purchase and will definitely be back to order some other dresses.

Nikola Cavazos
2019-01-28 15:53:38
Not the best photo of it but it fits great! I didn't get custom fitting so it's a bit long. My family has ordered custom fitting from jjs house and it was perfect every time! I was in a rush to get this dress for a wedding that was last minute so I couldn't get it fitted. It is beautiful!
jesienna
2018-07-16 01:40:49
Produkty JJ's House zauroczyły mnie od pierwszego spojrzenia. Suknia w szybkim czasie do mnie dotarła, bez żadnych kłopotów z płatnościami. Zaskoczyła mnie staranność i dbałość o klienta-bardzo pozytywnie! Produkt miał swoją własną, sklepową metkę (wygląda na własny produkt, a nie kupiony i tylko sprzedawany), zapakowany w zasuwany woreczek i dodatkowe kartonowe pudełko. Ogromnie się cieszę, że właśnie u nich zamówiłam swoją studniówkową sukienkę.

This Dress is so gorgeous, flows nicely on my body.
Sarah
2018-06-05 15:04:39
Beautiful dress! No slip required, and no spandex for me! The dress drops and flows beautifully! I custom ordered measurements. Wearing as a bridesmaids dress for a outdoor June wedding.
Jewels J
2018-05-30 14:58:37
This dress is very elegant and very beautiful for any formal occasion. I ordered this dress for Bridesmaids dresses in custom sizing, in Clover color. I'm very happy how well the dress flows on me, excellent quality. Will be ordering 4 more dresses for my bridesmaids.

Amy Hubbard
2018-05-22 05:41:47
I felt beautiful! Very elegant dress. Size 16. Ivory Colour.

suzannewest24
2018-01-21 10:57:45
I bought this dress to take on holiday as we were having formal nights and I thought this would be ideal. I had it custom made for me so I know when it came it would fit. When it came I thought how wonderful it was, and the colour was just what I wanted as well. I tried it on and it fitted me perfectly. I liked it so much I went and had another look on the website for another dress, but different style and colour to take with me. I loved the material and the way it hangs. I would recommend this dress to anyone.

keylen0990
2017-10-10 09:12:34
This dress isn't exactly what I imagined. Super elegant and very beautiful for any formal occasion.