Customer Reviews
A-Line/Princess Scoop Neck Asymmetrical Tulle Lace Wedding Dress With Beading Flower(s)
#002071230
List Price: £467.00 Save £272.00
By Madge
2015-10-09 20:18:18
I was very, very happy with my dress. I wish I could personally thank the person who made it. The attention to detail was impeccable!!! Thank you sooo much.

Madge from California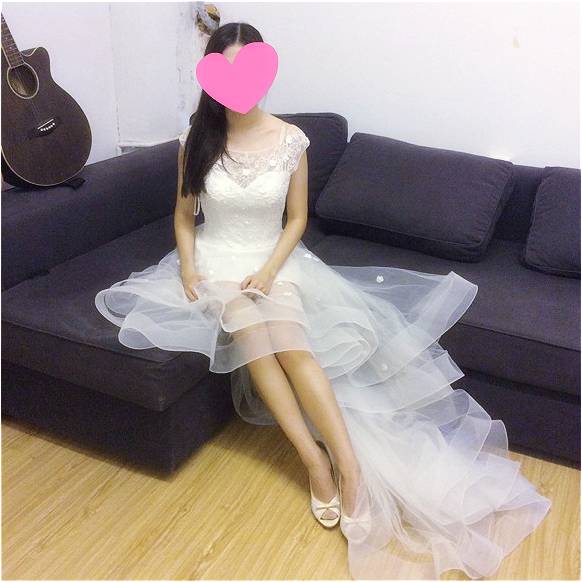 By bella
2016-12-02 21:28:32
My daughter loves her beach wedding dress..She will be wearing it in August 2017. The quality of fabric and appearance went beyond my expectations. Just beautiful! Thank you to your talented team of artist who created this dress, please pay them well. Thank you.
By karolina M
2016-07-26 06:47:27
Dear JJ'sHouse
Thabk you very,very,very much.
it's really amazing dress.It fits perfect and it's just like the one on the pictures.
Thanks to you my day THE DAY will be perfect.
Thanks xxxxxx
Karokina

By Tranguyen227
2016-04-24 08:58:26
Love it!!! Would definitely recommend the dress.. Services are great. Got my dress earlier than I expected! Overall A+. Can't wait to buy more stuff from here =D
By grgoon
2016-04-06 14:41:00
Other than the length of the train, the dress was exactly as expected! I ordered a custom size and the fit was exactly what I wanted. The train was a little bit longer than I thought, but the look still work out
By jorgina_romana
2016-03-03 01:30:34
I love my dress! I didnt expect it to be perfect and fits like a glove. Thank you Jjhouse. I will recommend it.
By evgenia.i
2015-11-30 11:50:37
The dress was made just perfectly!
It fits ideally (according to the measurments I have provided)
and it looks exactly like on the pictures from website.
I am very satisfied as a customer and definetely suggest JJHouse to other.
Thank you JJHouse for making me a dress for my special day!
By Wallis 1
2015-11-06 01:27:34
This dress was perfectly made to the measurements we sent in! And I ordered the dress customized.I was very afraid that the dress would be too small or too big, but turns out they sewed it exactly to the measurements I gave. Thank you JJ's House!!!
By Anne_Turner
2015-09-16 02:26:21
Although the dress can only be made in ivory, it is really graceful. The ivory color is more suitable for the dress. I really appreciate the asymmetrical design. I will order more from you!