Customer Reviews
A-Line/Princess Scoop Neck Floor-Length Chiffon Lace Wedding Dress With Beading Sequins
#002056982
60% OFF /
List Price: £334.00 Save £201.00
By Apple Wu
2017-01-30 22:23:46
It looks exactly like the picture, and the dress is very beautiful. I ordered the dress in customize made size. It fit me perfectly. Thank you JJ's house for making this dress for me. I cannot wait to wear it for my city hall wedding ceremony!

By Lindsay Moyer Thompson
2017-01-19 05:40:06
This dress is even more beautiful in person. The pictures really can't properly show just how pretty it is. It is a really good quality, especially for the price. It is a very simple but classic look. You can't go wrong with this dress as a purchase. JJs House was super helpful with all my questions too. Great customer service.

By JP_123004
2016-12-31 14:51:24
I love the dress. The design of it. It's a bit big and long. But I can definitely get it more fitted.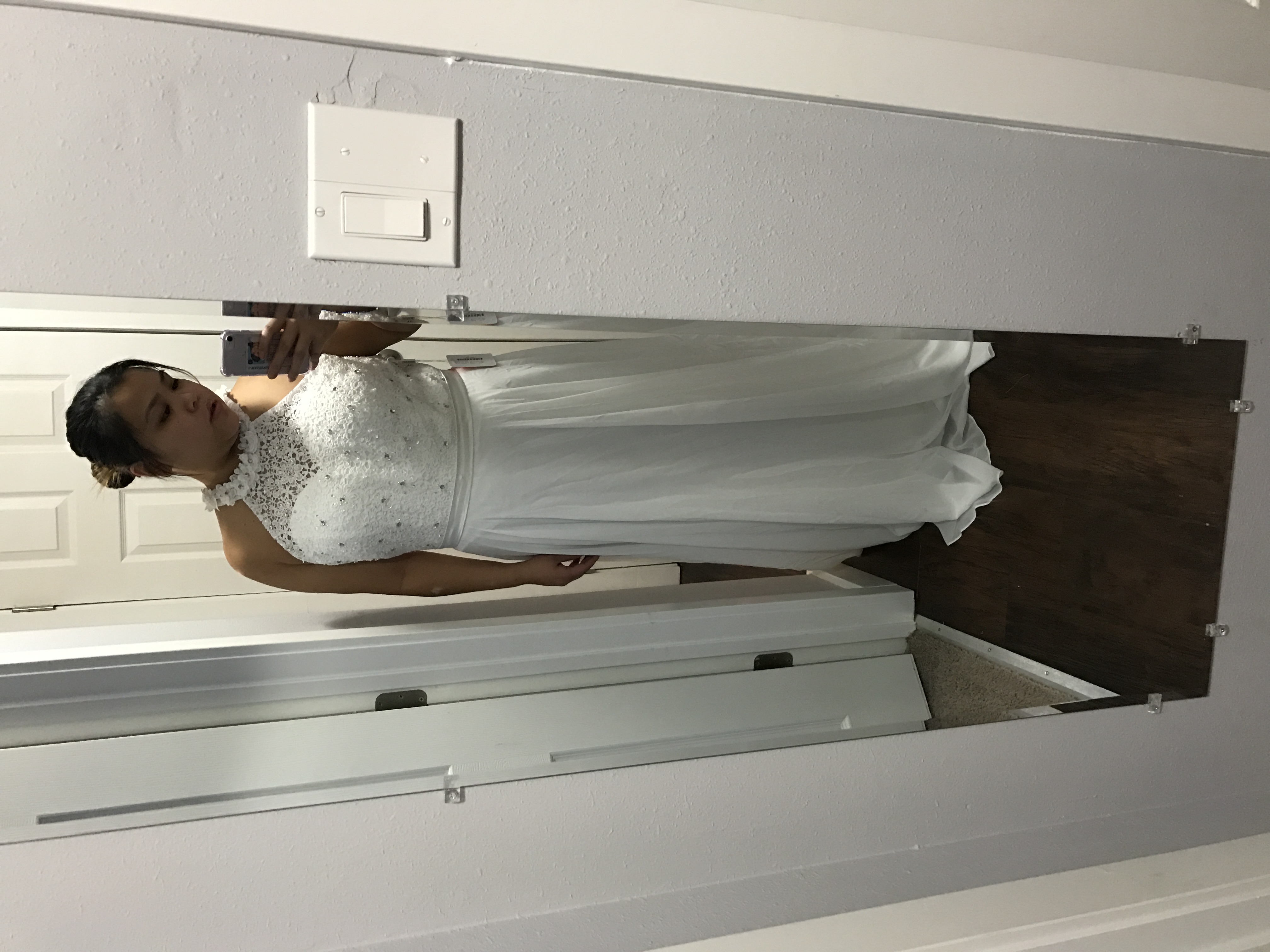 By carla.nico
2016-12-19 21:06:34
By Anna Shelton
2016-10-13 19:09:49
The dress is even better than I imagined! I can't believe how gorgeous it is for such a great price! I got it custom fitted, and ordered a little big since my wedding is over 6 months away, but it fits just like I thought it would !

By Sumelia
2016-09-11 19:37:11
FEATURED REVIEW
This dress is elegant and gorgeous! Got married in this dress 2 weeks ago and I do not regret buying it! It's made to the exact measurements in the site so I had to get mine altered because I'm a bit short. Spend the extra $19.99 and get yours custom made with your own measurements. It's worth it. The details are beautiful and the fit is very flattering. I loved it and so did my husband.

By nicole
2016-08-22 02:25:05
By aurora2136
2016-05-25 03:20:14
I got the color Ivory and it was perfect on my wedding day.
I was debating to buy online but because of some good reviews ,I gave it a try..
and I am glad I did. I did the custom size because I am only 5' tall and so petite.
I really love it. everyone loves my dress. thank you so much jjhouse.
you wont regret getting this one. just make sure you measure your size properly and get the custom size. worth a try for the price.

By Raquel
2016-04-04 22:43:07
I've received my dress on time and the quality was very good. It was a perfect dress! I will definitely buy other dresses on JJ's House again. :)

By martyna.wygrabek
2016-03-19 09:35:34
Beautiful dress! I was so scared to buy online my wedding dress but it was a great choice! The dress in reality looks exactly like on the pictures. The material doesn't look cheap at all. No one believes me when I tell people how much I paid for the dress. I ordered size 8, because I was afraid that if the dress will not meet my expectations and will be made-to-order I would not be able to return it. Now I regret a little bit, because the dress is perfect and I would need to do some changes on my own, as it is a little bit loose at the back. I would recommend to anyone to buy dresses from this website!