A-Line/Princess Strapless Chapel Train Satin Wedding Dress With Ruffle Lace Beading
#12609
Product Reviews
Write a review
bethan.j.hayden
2019-02-22 01:56:37
It's a gorgeous dress but don't order it if your busty.the front panel isn't boned but it is a gorgeous dress if your not busty.the detail is delicately sewn in
hrsegal97
2017-05-12 04:30:57
Updated picture from my bridal portrait session and the beautiful back corset. Love It!!

hrsegal97
2017-03-25 10:37:32
This dress is beautiful!!!! The material seems fine and of good quality. I simply Love it! I can't wait to wear it on my wedding day!!! True to size! Just as long as you follow there sizing chart you will be fine for the perfect fit. Bettter than I expected. Great deal!!! You will not be disappointed! I took a couple pictures so u can see the dress in detail. I just got out of the box so it is wrinkled. Love it!! Love it!!

cpechulis87
2016-07-24 05:09:21
Amazing....the dress is breathtaking
kyliewolsey2005
2016-02-21 04:56:31
First of all thank you to jjshouse for my beautiful wedding dress. I absolutely love it and it is perfect in every way. The detailing, the material, the style it is all that I imagined it would be! I was nervous about ordering online but the online chat was so helpful! It came quicker than I thought and within the timescales given. I couldn't have asked for a better service! Would definitely recommend any bride to be to look at this website! Thanks again.
Bronnie Hill
2015-04-12 02:24:08
I ordered this dress in custom measurements and it is perfect. I love it. Thanks to the lace up back it still fits even though I have lost some weight and as a short bride I appreciate not having to have it taken up at huge expense. I have since ordered accessories from JJs and had a second great experience. Thanks very much, you make it very easy! The photos are straight after taking it from the box so very unironed.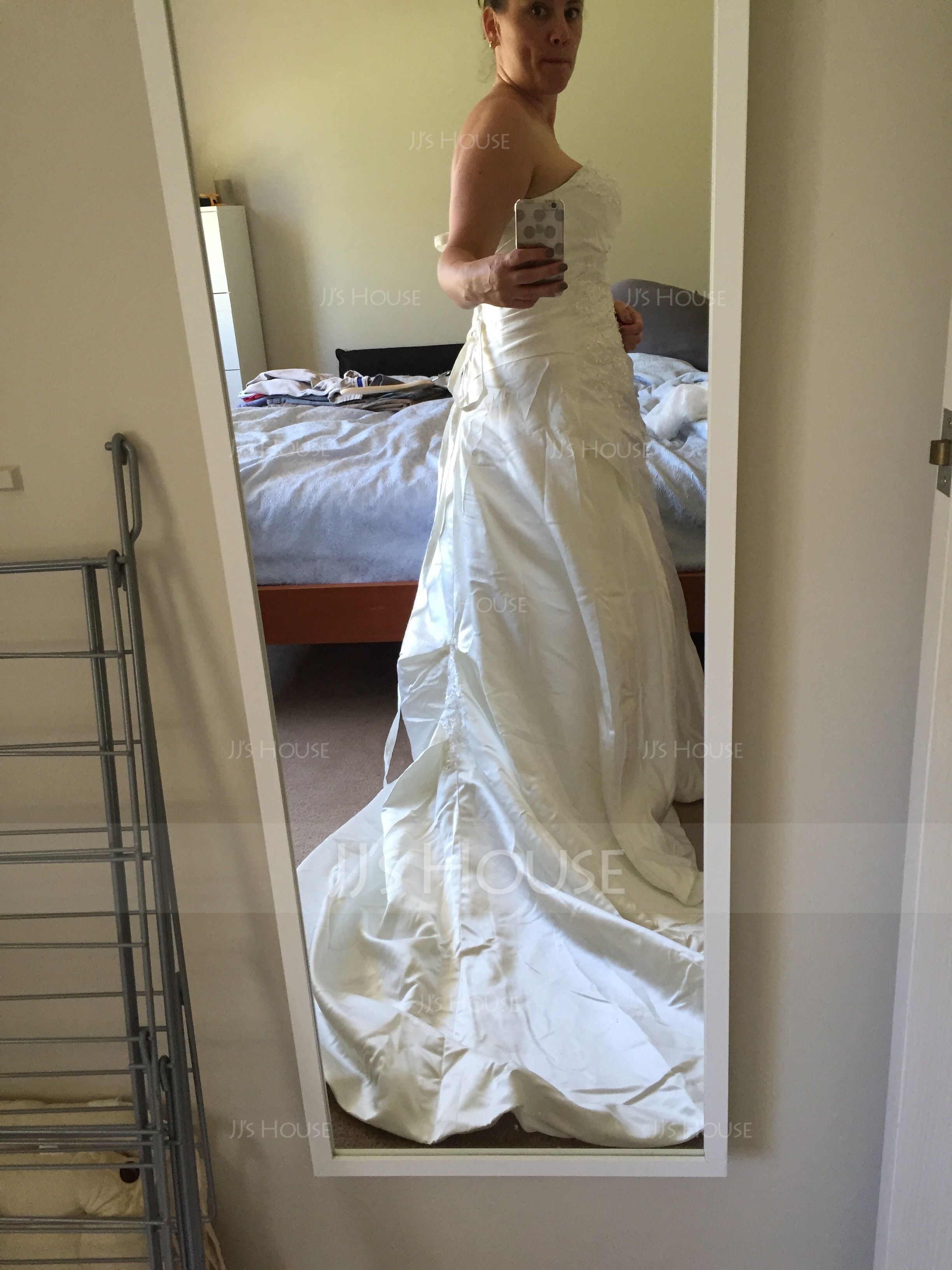 tabby_cat
2014-12-30 15:39:25
love the dress it fits perfectly cant wait to wear it thank you soo much will recommend you to everyone :)
laurenlewis27
2014-10-11 06:11:28
The dress was AMAZING!!!!

laurenlewis27
2014-09-04 12:02:46
OMG!!!!! If there was a 10-star rating on here!!! Man!!!! This dress is PERFECT!!! The picture does not do this dress justice!!! AT ALL!!!! I am soooooo happy that I decided to buy my wedding dress from JJ's House!!! THIS IS BEYOND MY EXPECTATIONS!!!! IT FITS PERFECTLY!!!! I might have to get it taken in just a little through the waist, because I've lost a couple of pounds, BUT I AM SO IN LOVE!!!! THANK YOU SO SO SO VERY MUCH JJ's HOUSE!!!! YOU DID A FANTASTIC JOB!!!!!
laurenlewis27
2014-09-04 06:00:24
Customer service has been really great about keeping me up-to-date on the progress of my dress. I tracked my package through UPS this morning and it has made it to Atlanta! It's scheduled for delivery to my home today. I'm just waiting to see what it will look like and if it'll be the perfect fit. But overall, everyone that I've talked to has assured me that I wil not be disappointed. I had a little bit of hiccup this week when I saw where you guys had shipped the dress but it said it was shipped in a standard size. You did however, get in touch with me to reassure me that the dress was made according to my preferences. This is a rating for the customer service I experienced along the way. I will make a full review once my dress arrives.