Out of Stock
A-Line/Princess Strapless Court Train Chiffon Wedding Dress With Beading Appliques Lace
#12572
Product Reviews
Write a review
Smiliegismoe
2019-06-10 00:33:46
I am very satisfied with the service and the product could not have asked for better
hrkessler109
2018-11-12 08:52:11
Love this dress so much!! It fits so well and fits according to the size chart. The material is really well made and heavy, which I like! It's not super super fancy like all those designer dresses, but it was perfect for me because I feel like such royalty in it. :)
chrissyspankins
2018-06-11 16:58:43
Love this dress, purchased for my upcoming summer wedding. Fit is true to size, good price and the detail is beautiful!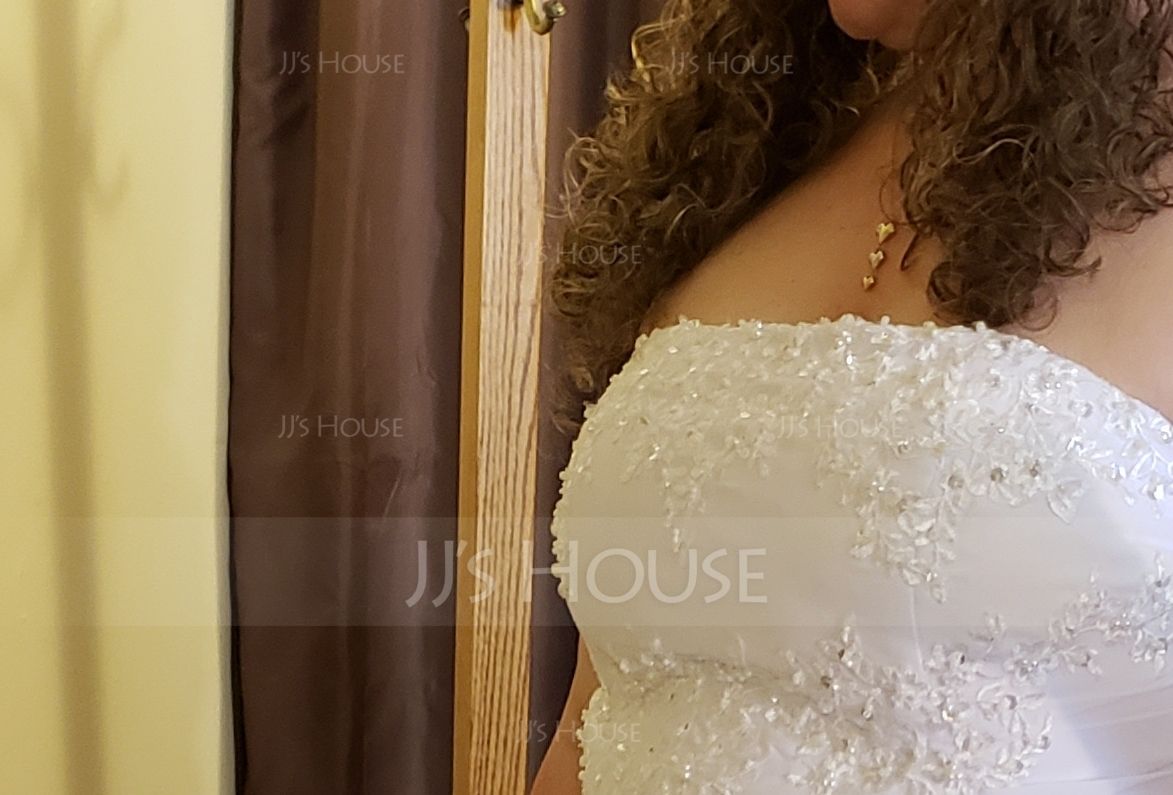 lmbenno74
2018-04-04 01:06:07
Absolutely stunning dress right size fix perfectly i love it
catherine0974
2016-03-19 16:18:06
I was skeptical to order online but I must say everything I ordered from JJHouse was lovely. Except my dress is wrinkle and my poster mat for floor came crinkle at the edges. The dress would have fit perfect but I got badly sick and lost weight so now its alittle big. I can't stop bragging about this company and the dresses are much more beautiful than David's Bridal. I will post photos of my wedding dress soon. I highly recommend this company. I been telling everyone to shop with JJHouse for their wedding or any occasion. I am a happy customer and will shop here again.
flodesilva
2015-08-25 00:45:21
Recieved my dress yesterday. Orded custom size fits perfectly. Arrived in just over two weeks. Beautiful and thank you to the dress makers.
jeannifercullen22
2014-05-19 19:52:57
I just got my dress and is beautiful and perfect I never thought a wedding dress was too heavy but I can handle it is so soft and smooth.
Felicity_Bodmer
2014-04-07 21:53:09
I custom ordered my dress and I absolutely love it! It fits perfect everywhere and is so beautiful! I'm getting married May 10th and am so excited. Thank you so much, I am so happy with my dress.
ladyluck1964
2014-03-24 10:20:35
received my wedding dress today and its beautiful just as good as the picture. Cant wait to wear it this may :) one very happy bride to be
Danika Santos
2013-08-16 23:42:38
I absolutely love my dress_it was made beautifully and quick. I was all ready to wait at least a month to get back since it was customized to my measurements. Excellent job. My wedding is next month so I do not have pics to upload but i can't wait to put it on on that day>> thank you very much for excellent service.