Customer Reviews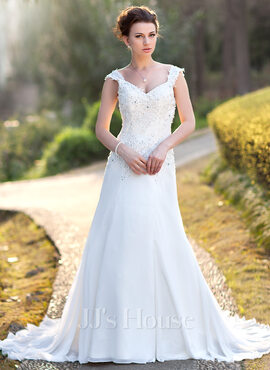 A-Line/Princess V-neck Court Train Chiffon Wedding Dress With Lace Beading Sequins
#002000159
List Price: £285.00 Save £118.00
By djrobins8
2016-07-18 17:38:22
I LOVE LOVE my wedding gown!!! I ordered a custom size. It is Gorgeous!!! Perfect in every way. The beading was stunning and I asked for and received extra beads, but I didn't need them. When ordering I was so worried that I had wasted my money, but I am so glad I went with JJs. I will order again and recommed JJs without hesitation or reservations. The gown was well packaged. It was wrinkled which I expected but the wrinkles steamed out easily.

By Nathy Hofer
2016-04-22 01:58:55
By Jodie Shepherd-Troth
2016-03-02 18:46:47
I was tasked to find a wedding dress for my dear friend as her fiance wanted to have a SURPRISE wedding! I came across your company and found the perfect dress for her! She was so happy with our choice and looked like a princess on her wedding day!

By rali
2016-02-22 18:01:47
By morningcalm1987
2016-01-04 19:29:03
My wedding date is January 16 and I love my dress. I tried on dresses at a boutique. One was similar to the one I had seen on JJ's House website. I loved it and it was ready and available. It was $900. Since this one is only a fraction of that cost, I decided to order despite my fear of ordering sight unseen. I'm so happy I did! Wow! The other dress was weighty and much thicker compared. The quality of my dress is perfect though and I'm so thrilled! One note...I did trim some of the lace from the shoulder straps.
By line.svo
2015-09-11 10:28:13
Har i dag fått kjolen min (002000159) Veldig veldig fornøyd. God kvalitet og passer perfekt. Kom raskt. Gleder meg til å bruke den
By Theisonk
2015-04-25 07:02:29
Thank you JJHouse for my beautiful wedding dress!! It turned out absolutely amazing and I can hardly wait for my big day. I ordered a custom fit and made the hips just a little bigger so I could adjust later and it's exactly how I wanted it. I had several concerns ordering online for my big day, and I submitted several questions to their customer service before purchasing. I received a reply within 24 hours and also a coupon for $5 off! I requested a few extra beads and sequins to match my dress incase any were loose and they included them at no extra charge!! I was told 9-12 to make and 5-7 days for shipping. I ordered my dress on a Wednesday and received my dress in ten days!! Thanks again JJhouse
By Eudora_Lopez
2014-09-26 22:15:16
Hi, JJsHouse

The dress is gorgeous! I bought it for my summer wedding and it fits me perfectly. The fabric chiffon is light and soft which suits the weather well. Moreover, you guys are so patient and nice.

Thank you very much.
By Truda _Green
2014-09-26 00:05:04
Hi,JJsHouse

I am glad to tell you that I have received my dreaming dress and I am very satisfied with it. It is the same as the picture shows and the fabric touches so comfortable. It is worthy of the price.

Thank you so much.
By Kirsten
2014-09-06 01:30:30
I cannot thank you enough because the dress really impressed me a lot. The quality of the dress actually exceeded my expectations and the color of it is really what i wanted. Thank you.