A-Line V-neck Floor-Length Chiffon Lace Mother of the Bride Dress With Ruffle Beading Sequins
#107638
Product Reviews
Write a review
Junebead
2020-02-17 05:20:06
Beautiful dress, well made. Bought for my granddaughters wedding this was the second time I bought from this company, and have recommended it to many friends already.
Maria
2019-12-01 02:49:57
I love this dress. I purchased a size US20/UK22. It's beautiful, however I would highly recommend custom sizing it as I found the top a bit bigger than anticipated and it's too long for me at 5 foot 7 inches or 170 cms tall. I know that next time I buy from here I will certainly be using their custom sizing option. I'm not sure about the built in bra system. I think I would have preferred not to have it in but I'm sure everyone would feel differently about that.

rosemarywootten
2018-12-21 10:08:32
I am so very pleased with my beautiful dress, had it custom made it took 19 days to arrive all lovely packaged, very few creases.
Got it for my cruise in Jan ordered Burgundy, very comfortable to wear has sequins and jewels first rate sewing, great communication with company
Can't post a pic yet as I'm ordering it for my wedding next year in Ivory.
10/10 recommended great service. Thankyou Jjs House
avatamwaiyee
2018-12-20 01:05:03
Very good fitting, only is too long, i need to amend outside.
Thank very much.
cindi6856
2018-09-21 11:44:24
I was very happy with this dress. I had it made to fit and it was done perfectly.
gardengram90
2018-09-17 19:19:34
I was hesitant to order a special mother of the bride (in my case, a grandmother of the bride) online but I couldn't find anything locally. My daughter recommended you and she also ordered her dress from you so I decided to try your site. I had a difficult time trying to decide on a dress but finally did after doing a research of your site and reading many reviews. I knew I wanted taupe but ordered the swatch to be sure of the color. I ordered the custom size, received in as promised in 21 days and it fit perfectly except at the 'v' on the bust. I had it altered by purina small tuck in that area. I had many wonder compliments at the wedding and will certainly recommend your website in the future.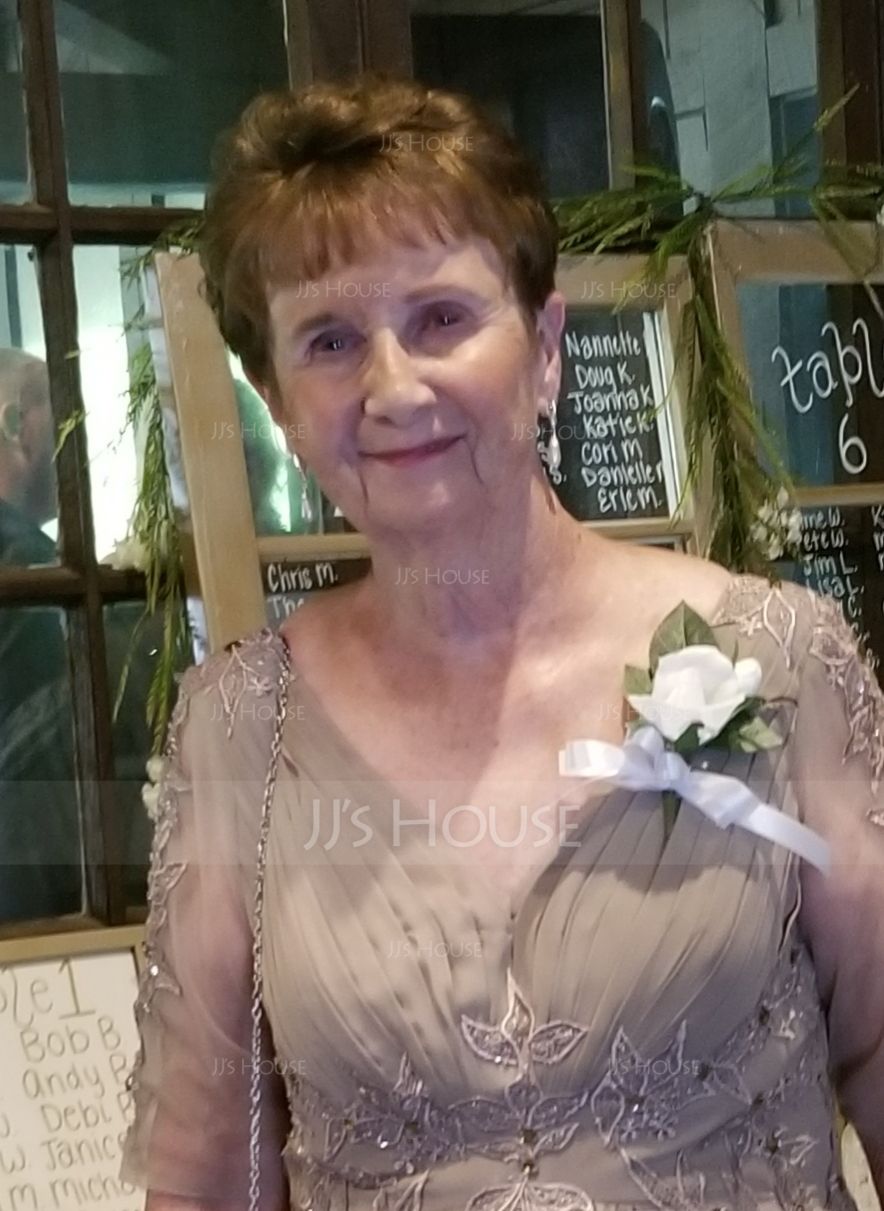 sundansr11
2018-09-13 08:42:40
I ordered two dresses. A black and a stormy. I'm very impressed with the quality and how they were packaged. I was afraid of the length so I gave an inch shorter and glad I did. Fits perfect. I will order again. I love my dresses.
itzpatricia
2018-04-02 14:31:09
This is a very nice dress! Well made, and fits great! Paid extra to do the custom size and it was worth it! A little long but won't be a problem to get it hemmed. Just always remember since these dresses are custom made, make sure you measure! By the way the bra is built into the dress, perfect! Thank you JJ House, i will be back!

Ashleigh Prowling
2018-02-14 19:40:07
Great service and a good quality gown. Colour was fabulous (ordered Stormy). Speedy delivery and packaged very well. I will need to do a small alteration on the bust area as it is a little large. Would order from JJ House again. Thank you.
Carla Case-Sweeney
2018-01-23 23:42:59
I needed a gown for a military ball and the first place I thought of was JJ's House. I remembered the superb service and quality of product I had gotten with my mother of the bride dress five years ago. I can happily say I was not disappointed. Once again, JJ's house came through with flying colors. I ordered custom size... at 4 ft 10 in tall and extreme pear shape it is a necessity. JJ's checked and rechecked with me to ensure the measurements were correct. I ordered this gown in black and it is fabulous. I received so many compliments! The detail is gorgeous, the cut is flattering, and it is just amazing. I ordered in black as shown in the picture. It is stunning. You can't go wrong with the quality of service and dress. The dress came packaged in a flat box, it came out beautifully, ready to pop on and go to the ball!