A-Line/Princess V-neck Floor-Length Chiffon Wedding Dress With Beading Sequins Cascading Ruffles
#71532
Product Reviews
Write a review
jgm336
2016-12-09 07:41:38
Agustina Aurelia Taufiq
2016-06-05 07:04:14
It is quite scary to buy your wedding dress online. I tried anyway since it is for reasonable price. So even if it does not work, it will not be so much loss. So the package arrived. I like the wrapping, it is quite neat and pro. The dress itself, not so much like the picture but of course because I can see the details closer and found the stiches are not as neat. I need to get it altered to have it fit perfectly. I am quite happy at the end. I get what I paid for.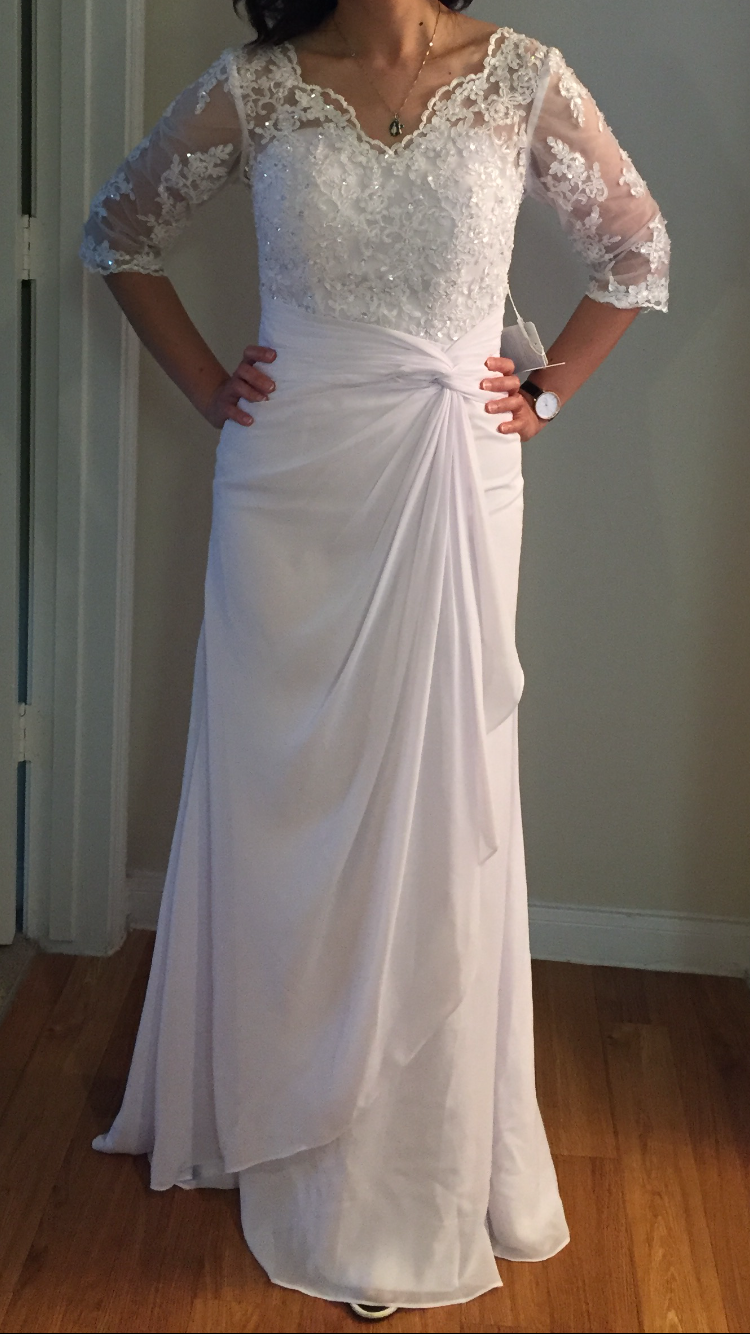 amandamariedobbins
2016-04-14 11:06:02
staceym22170
2017-03-16 05:37:51
The dress is absolutely gorgeous!!! The stitching is very professionally done and the fabric is of high quality. It is more beautiful in person!!! Can't wait to wear it on my wedding day in October!!!!
jebb21
2017-02-04 12:48:38
It so nice, it was well made
tonyngaire
2016-12-19 23:33:57
Thank you so very much for lovely gown. I am very happy with it an feel very elegant in this gown. Looking forward to wedding day.
Bonnita
2016-10-14 21:16:23
I ordered this dress for our 25th wedding day saying our wedding vows again. I specialty ordered it to my measurements and it is Perfect!! I absolutely love this dress and it fits perfectly. I am so excited now that I got the most awesome dress and it looks amazing. I feel so special in this dress. Beautiful lace, beadwork, long flowing chiffon and made with care.
Thank you Jjshouse for my beautiful dress. We will have the most perfect beach wedding in Bora Bora.
Bonnita
Dicarito593
2015-12-24 18:27:31
This is a perfect wedding dress and I bought it for my sister. I want her to be the most beautiful bride. The wedding dress do meet our satisfaction. My sister likes the dress very much and the dress fits her very well. Professional guys.
Carrie1989
2015-11-30 00:13:26
Dress is perfect. I had it custom made and it suits me very well.
I am so happy that this dress is gorgeous and it is even more beautiful than the pictures above! The color I choose is white and it looks really pure. The first time I try it on, I have the image that I seemed to see a princess standing in front of the mirror, beautiful and shy.
Very pleased, will be ordering from this site again.
I definitely recommend this dress to all the beautiful brides!!