Customer Reviews
A-Line/Princess V-neck Knee-Length Chiffon Mother of the Bride Dress With Beading Sequins Cascading Ruffles
#008056884
45% OFF /
List Price: £178.00 Save £84.00
By Maureen
2015-11-25 21:18:21
The dress was awesome, fit like a glove and very comfortable. I received a lot of compliments on the dress.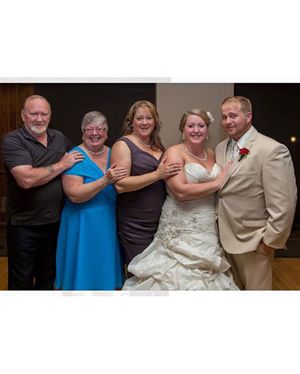 By janec.edmunds
2016-11-11 02:59:31
A lovely dress, beautifully made and delivered promptly all the way to Australia in under 2 weeks. I would certainly recommend this company.
By megzrn
2016-09-01 22:19:20
Dress looks beautiful with beautiful coice of colors to choose from
By itsthenana
2016-07-27 14:55:16
The dress arrived the quality was perfect, alas for some reason the dress was a little too big on top. All in all it was beautiful and just disappointed about the customized fit. I had two different tailors measure me and came up with the same measurements. If it can be fixed I would just try another style of dress. Was satisfied with all the help I received from JJshouse.
By bbmakeuo
2016-07-16 19:07:06
Picture perfect, love my dress!
By cheryl.claire.hodgson
2016-06-11 23:02:40
I was very pleased with this purchase. The colour and style as indicated in picture. The only thing that I would say is that the sleeve is a little large for my frame but will only take a small alteration to fix. The quality is great and the price was very good.
By georgannhancock1
2016-04-28 06:33:58
This dress is absolutely beautiful and very flattering. I am 5' 1" and carry my weight in my hips and back end. I also have a few back fat rolls and this dress hides all of it. I was nervous about the sleeve length because I don't like to show my upper arms, but the sleeves cover enough of the heavy part of my arms.
I am a hard to fit size, so I chose the custom made option, I just sent in my measurements. The dress fits perfectly, although it was a too short compared to the picture. I contacted JJ's house and they are sending me more material for the bottom of dress. Their customer service is outstanding!!!
This won't be the last time I order from JJ's House! I really could not be happier!!
By Mefs1125
2016-03-20 10:13:35
I was hesitant to purchase my mother-of-the-bride dress online but the other reviews were very helpful. The dress is beautiful and fits perfectly. My measurements were very close to an exact size and the only change I need to make is to add straps to hold the dress up more securely. I am only 5 foot tall and even the length is perfect as a tea length dress. The ruched bodice is very flattering and forgiving to figure flaws. My family says it looks great so I can't wait to wear it at my daughter's wedding this June.
By kathysfunshine
2016-02-10 12:22:52
I rarely leave feedback for clothing but with the difficulty I had deciding which size to order, I hope this helps you when making your selection. I measure 43 (bust), 44 (waist) and 50 (hips). Measurements for a size 18 dress state 45 (bust), 38.5 (waist) and 47.5 (hips). I ordered an 18 and it perfectly fits my hips, is just ever so slightly snug at my waist, and the bust will need to be taken in a couple inches, but I couldn't be happier with my selection. I am 5' 6" and the dress hangs just below my knee. Both the lining and fabric offer a little give/stretch. It flows and hangs very nicely and the sleeves could be worn over the shoulder, as shown, or as a thick spaghetti strap. Immediate shipping and nice fabric. Thrilled with this dress!
By Alice5252
2015-11-12 18:54:08
Thank you for your existence, JJsHouse!
About a month ago, my friend recommended your website to me. And, I manged to purchase a dress on your website. I was surprised by the price of the dresses. They are reasonable! I thought the quality maybe normal because of the price. But, I changed my mind when I received my dress. The quality is excellent.
Thank you very much!