A-Line Sweetheart Asymmetrical Chiffon Evening Dress
#13987
Product Reviews
Write a review
Adrian
2018-07-12 15:14:06
Hola para todos ,fue una excelente ocasión comprar con jjshouse.
Servicio al cliente muy bueno, tienen un chat para todos.
Le doy 5 star.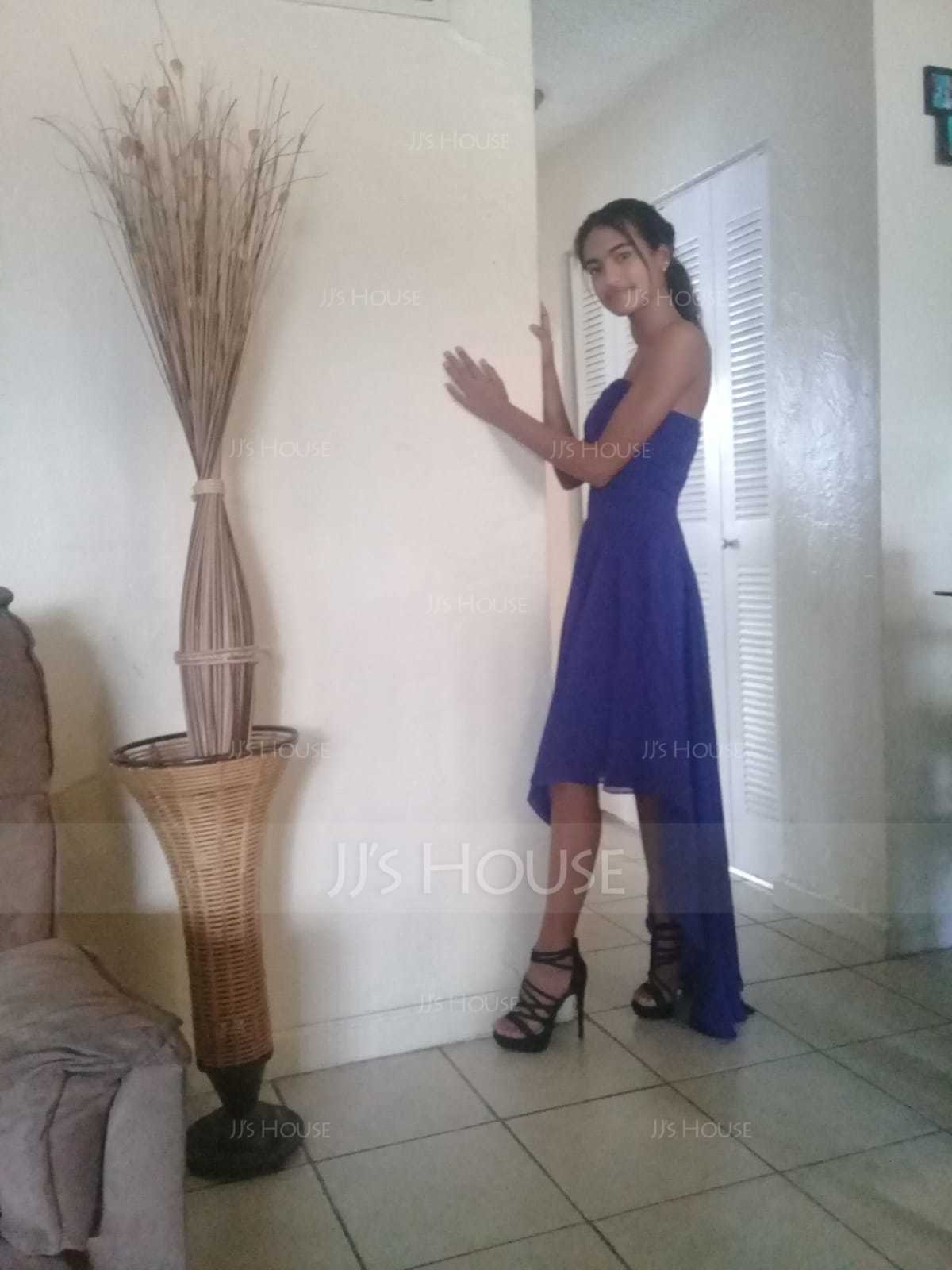 Emily Tuck
2016-08-12 19:25:18
I got the dress custom made and it fit perfectly! Colour is the exact same as the photos, overall a beautiful dress!
Delores Roberts
2015-11-17 17:38:46
This dress was just as beautiful on the site as it was on. The dress fit perfectly and it arrived just in time for my niece's wedding!

heartlovebreaks
2015-08-24 18:13:20
Love the fit of this dress! It truly looks beautiful. Just like in the picture on the website.

mamagina32
2014-09-19 12:41:34
jjhouse has a very responsive customer service and customer care for all their customers.
katybug1987
2014-09-02 07:34:29
I was SUPER impressed. The site said it would take at minimum 15 business days to receive my dress ( time for tailoring and then time for shipping). I got my dress (with CUSTOM tailoring) in 6 business days! The measurements were exact. The dress fits like a glove and the length is absolutely perfect. I was most worried about the length because I'm only 5'1", but it's perfect. The dress quality is also really nice. I wasn't sure what to expect since this site is huge and has a crazy amount of dresses, but the material is really nice. I love the way the dress flows when I walk. It's light and airy and it will be perfect for my sister's fall beach wedding in North Carolina! Thanks, JJ's House!

kathleenrheaume
2014-07-08 18:52:18
Merci beaucoup ma robe est vraiment tres belle, je l'ai commande sur mesure et elle me va a merveille......
Catherine
2014-03-10 23:26:27
This dress fit me well and I look so good in it. The colour is perfect and its style is quite suit to my occasion. I had a wonderful party with that dress. I'm just considering order another dress on your website. Thanks guys.
LIASROCHA1
2014-01-29 04:32:19
adorei o vestido,tecido de qualidade muito bem feito melhor do que esperava o tamanho é exato parece que foi feito para o meu corpo e com minhas próprias medidas.adoreiiiii
Mrs Anja Leighwood
2014-01-19 16:28:12
I ordered this dress for my cousins wedding , i was amazed at it's quality and great value for money . I felt a million dollars in this garment . colour was true to example, fabric soft and flowing and interior support within the dress fitted beautifully on the bust and waist. I was totally confident all day and did not need to keep adjusting the dress . As often the case with strapless dresses. I rated this dress 5 stars and i also rate this company 5 stars for easy ordering, great value and fast shipping of items ordered excellent all round .