Customer Reviews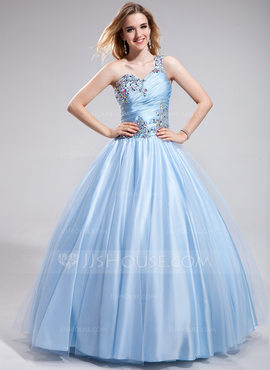 Ball-Gown One-Shoulder Floor-Length Charmeuse Prom Dress With Ruffle Beading
#018025293
List Price: £226.00 Save £86.00
By ivymajpruzmoat27
2016-02-29 16:50:06
By bndillon13
2014-04-03 08:10:33
I love the dress! It's beautiful and perfect for my prom! Thank you!

One thing that I wish was different was that I wish I knew where the shipment was coming from before the item has been shipped. It's not that big of a deal, but I'm not a fan of oversea shipping.
By Jessie
2014-03-25 01:30:32
just wanted to say that this dress is beautiful. Every detail of it was just stunning. Please send our gratitude to the dressmakers and your customer service. Many thanks!
By Jacqueline
2014-03-13 19:21:57
This dress is perfect. It is exactly the dress I dreamed for my prom. It is still more than half a month till my prom. I could not wait wearing it now!!! LOL…
Showing 1 - 4 of 4 Items
1