Ball-Gown Scalloped Neck Chapel Train Satin Quinceanera Dress With Ruffle
#20668
Product Reviews
Write a review
elizabethrimell55
2019-06-29 11:50:18
Just received this dress. It was custom made and it fit like a glove. The quality is second to none amazing. I cannot recommend this company highly enough. This is the second item I have ordered from here and both are wonderful xxxx


ria_santoro
2017-07-27 07:33:36
I've ordered 3 dresses so far from jjshouse and have been extremely pleased each time. The quality and service has been outstanding. I will be ordering several more dresses soon for my daughter's Sweet 16. However, I have a special request for me. I'd like to know if you can make this dress for me in the Tahiti or Wisteria colors in your satin color chart so that it can go with my daughter's theme colors. I am eagerly awaiting your response. Thank you!!
howlites
2016-06-23 21:58:49
Amazing dress! Even more beautiful in person. Shipping was fast and it was pacakaged well. I'm 5'8 and ordered the red in a size 12 and the fit and length was perfect. It fits just like a glove and so many people complimented me and begged to know where I bought the dress! I just bought another dress from JJsHouse and will continue to do so in the future.
Arianna
2016-04-18 21:58:01
I'm honestly so impressed with this dress. I ordered it for my junior prom, which has not happened yet but the dress just arrived in the mail today. I am 5'4.5'' - 5'5'' and about 112 pounds. I ordered a size 2 in burgundy without the train and it fit perfectly, it looks way better than the picture in my opinion. It is a little long but, im going to be wearing 4 inch heels so it should be okay :)). I was skeptical about ordering from jjshouse but it really is a good quality dress, cant believe i spent under 200 for such a beautiful dress.
Kirsten Anderson
2015-12-13 21:43:54
I love my dress! I got so many complements at my husbands military ball!

Siobhan Fahey
2015-10-15 05:38:51
I looked amazing at my wedding, a fantastic dress which really suited me! Loved how well it was made. I had it made a little too large so I could have it adjusted by a dress maker locally, but even with this the cost of my wedding dress was amazing. Thank you for making our dreams come true!

ann_altaweel
2015-07-18 21:18:48
This is the best website to order dresses from you get what you ask for the prices are reasonable. I just love it!
nicholas.seguin
2015-05-02 07:04:06
Perfect! Just like the pictures.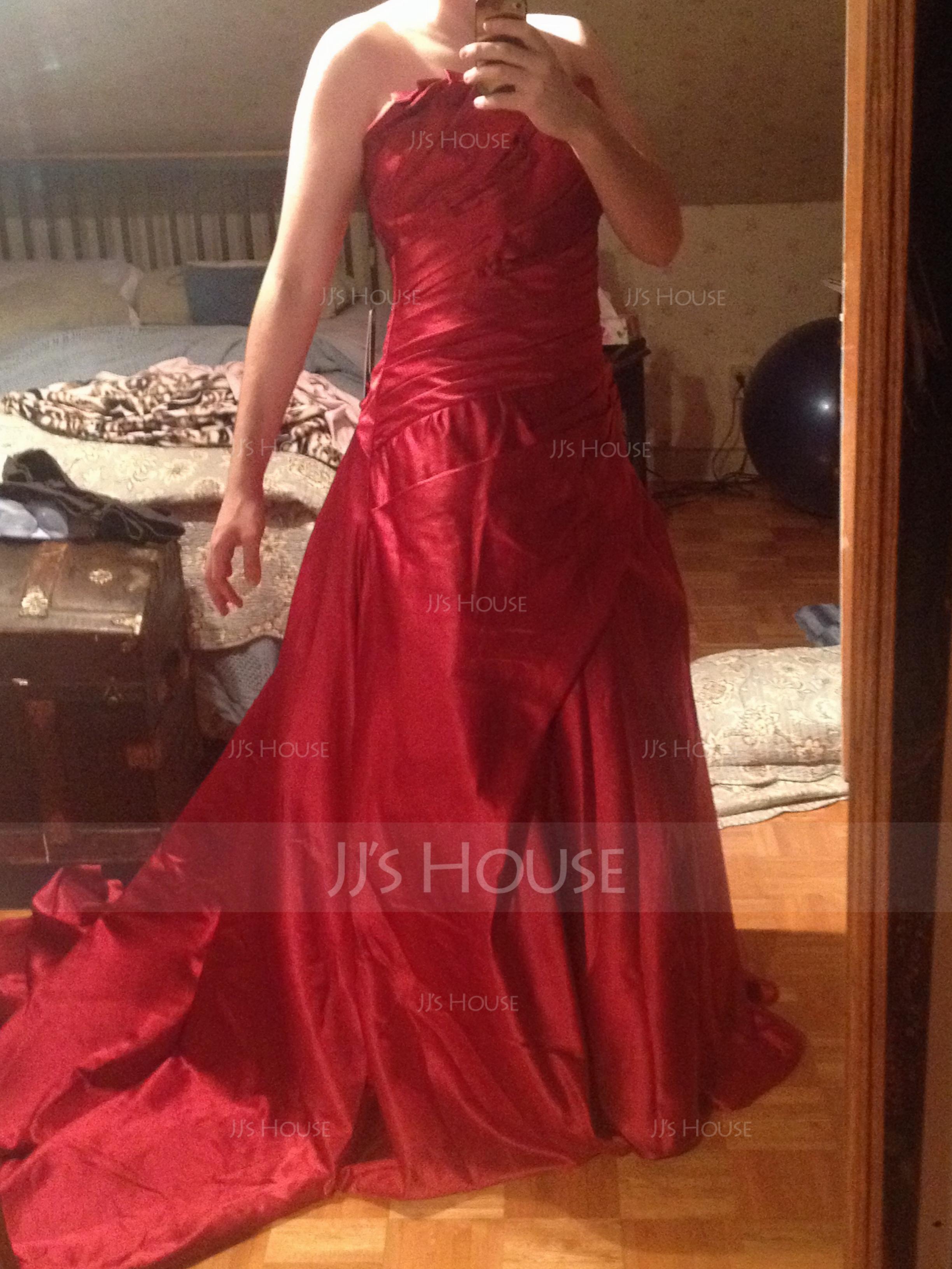 skeetcat34
2014-05-28 11:51:50
wonderful experience; great quality, dress was unbelievable! very well made & got here VERY fast. My daughter wore it to prom without the train. We paid the small fee to remove the train. It needed nothing. Had a built in bra. and was extremely flattering to her full figure! She looked amazing!

skeetcat34
2014-04-21 10:01:33
I ordered this dress for my daughter's prom in ink blue. We had them take off the train. It arrived in a matter of days. I used express shipping. The quality was exceptional and the color was rich and beautiful. It does have an attached crinoline under the dress, so you really will not need to order one. The dress was VERY well made. The only small thing is, we ordered the dress in a custom size. I did the proper measurements and the dress was about 3 inches too big throughout the bust and torso. We had to drop it off at the tailors to get it taken in because I am not seamstress. But even with that small cost, the dress was WELL worth it! Will order from them again, but will take a couple inches off the bust next time and the torso.