Customer Reviews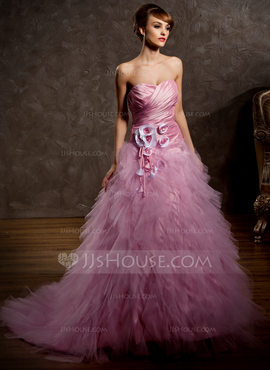 Ball-Gown Sweetheart Court Train Taffeta Tulle Wedding Dress With Ruffle Flower(s)
#002011428
List Price: £299.00 Save £106.00
By Enrico negri
2013-06-16 17:01:11
FEATURED REVIEW
quero agradecer por ter feito da festa de minha filha um verdadeiro conto de fadas , todos ficaram maravilhados com o vestido, comprei para o aniversario de 15 anos de minha filha e coloquei cristais swairovsk para dar mais brilho... ficou perfeito. Gostaria de agradecer de coração por tudo que fizeram, pela dedicação e pelo vestido de alta qualidade. Muito obrigada por tudo e Parabéns pelo trabalho de vocês, Indiquei o site para amigos e com certeza farão excelente negócios na jj'house. Obrigada

By Enrico negri
2013-06-16 16:54:42
FEATURED REVIEW
Comprei este vestido para minha filha para festa de 15 anos dela, apliquei cristais swairovski dando mais brilho no vestido, ficou maravilhoso, fiquei imensamente feliz porque minha filha ficou uma princesa e todos elogiaram. Falei orgulhosa que comprei o vestido na JJ'House. Voces foram maravilhosos, no atendimento, no vestido de alta qualidade, caiu perfeitamente e fez da festa de minha filha um verdadeiro conto de fadas. Agradeço muito por tudo que fizeram e estou colocando a foto do vestido para que seus clientes vejam como ficou lindo. Muito Obrigada por tudo e bons negocios.

By kerry169
2014-02-24 09:06:35
Omg! This dress looks even more amazing in real life than on the photo! It's a truly amazingly wonderful dress! Each ans every stitch is perfect! I can't wait to wear it on my wedding day. I have it in white, and its just stunningly beautiful, no words can really express how special this dress makes me feel when I have it on. Worth every penny and so much more. I'm going to be ordering my bridesmaids dresses off here now too! Just sheer perfection! Thank you so much!
Reply by JJsHouse 2014-02-25 01:23:55
Dear Kerry169, thank you so much for your recognition of JJ's House. We are so happy to offer a wide selection of couture-style dresses to the customers. It is our responsibility to ensure you look your best and different on every event.
By Madelynn
2013-06-15 23:50:02
FEATURED REVIEW
Good afternoon! I received my wedding dress! I chose pink and it is just as shown in the picture. The fabric and the tulle are of high quality and the workmanship is great!! Wonderful shopping experience!!
By Jackie Humphrey
2013-03-29 09:29:17
FEATURED REVIEW
We were nervous about ordering this dress but when it came, we were amazed!!! The color is beautiful. The picture on the website does not do it justice. We ordered the pink and we love it! We will definitely recommend this site to our friends! Thank You!
By sandra redmond
2013-01-25 10:24:43
I bought this for a Ball , and was very worried about the colour and cut but went ahead as I felt I had nothing to lose. It arrived ahead of time , it's absolutely beautiful , fits so well ( custom made) and despite being a wedding dress design , I know it will be fun to wear to a posh Do . I will , without reservation be recommending this site ! Impressive service too , so nice to be able to give a good review .
Reply by JJsHouse 2013-01-26 02:23:57
By Leona
2012-12-19 00:25:21
FEATURED REVIEW
Thank you very much for my excellent wedding dress!!!im love it!!!its perfect for me and have a nice quality.Im very glad!!!!!! A friend of mine recommend this site to me and im happy i did order from you. Next i will recommend you to my friends.
By Elenita
2012-12-11 01:13:56
FEATURED REVIEW
Just received my wedding dress and it is beautiful. Fits perfect. I am getting married in Ireland in january. Cannot wait for my big day . Would recommend this website to anyone who is looking for well made dresses. They just can make the dreaming dress. Don't worry about this.
By Sporah
2012-12-07 00:00:56
The skirt is very much beautiful than in the picture and the skirt has a subtle elegance. As for the ruffle, I just needed it since it makes the dress special. My fiance is happy as he thinks it suits me well. I love how it makes me feel, playful and elegant at the same time.
By nickey
2012-11-28 22:31:32
FEATURED REVIEW
very beautiful dress! arrived yesterday, looks the same as the picture,i choose the color in pink - the bodice fabric is a little darker than in pictures. never mind, always nice dress:)