Customer Reviews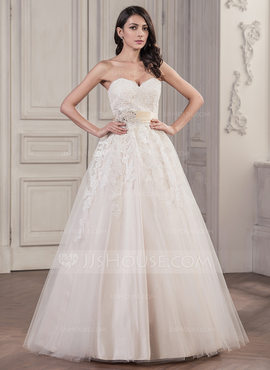 Ball-Gown Sweetheart Floor-Length Tulle Lace Wedding Dress With Beading Sequins
#002058775
List Price: £424.00 Save £255.00
By 2208reggy
2016-11-19 12:48:06
Thank you so much for my beautiful wedding dress, it was wonderful and very comfortable, and my wedding was amazing. Thanks a lot!

By habolen
2016-11-11 08:50:10
I took a big gamble ordering online and was quite nervous about the idea but couldn't justiy spending between $600- $1000 on a dress I would only wear for 5 hours! When it arrived I loved it! It was very lacy and feminine! I ordered a bit big (for safety) and had it altered locally! I ordered it in ivory which I thought was the color pictured and was wrong! The color on the model I believe is champange but was actually thankful I was wrong! I wore it without a petite coat underneath although I ordered one! I ordered it 8 weeks before my wedding and it arrived within about 2-3 weeks after ordering and sooner then quoted! I would highly recommmend ordering this dress!
By jennyjohn
2016-10-21 10:27:30
Absolutely stunning dress. True to the picture. Cannot wait to wear it on my wedding day. Highly recommended JJs House
By Josephine
2015-04-11 18:46:47
For a lace lover, this wedding dress is definitely a good choice. Hi, guys, do not hesitate. I am sure you will be satisfied with the dress.
By Rocio
2015-04-09 03:47:48
I like this ivory dress very much! Thank you!!
By OlgaMogollon
2015-04-09 01:12:26
I bought this dress for my wedding!! It fits me perfectly and the quality is good! I like the inner champagne layer. The fabric feels soft. I am very satisfied with my dress!! Thank you so much!!
Showing 1 - 6 of 6 Items
1