Customer Reviews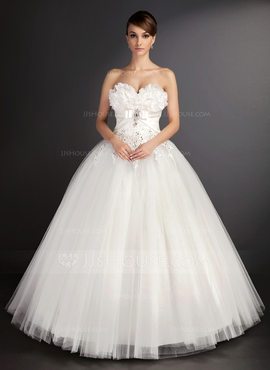 Ball-Gown Sweetheart Floor-Length Tulle Wedding Dress With Lace Beading Sequins
#002015490
List Price: £285.00 Save £92.00
By divinemambo
2016-04-14 01:16:07
This is the most beautiful dress I have ever owned, it was purchased for me to wear for my upcoming beauty pageant I feel like a princess in it, its heavy, well made looks better in person then any photo and I will be buying my next gown from you as well. Thank you for making me feel so beautiful. This is just a candid picture as my pageant is not for months but if you want to look and feel like an angel this dress is for you. xoxo


By Michelle Mc Intyre
2015-11-19 03:41:51
I must say, the dress was gorgeous and fitted excellent! I always had issues with dresses but JJhouse made my day ultra special and I could not have done it without their help! Love you guys and keep up the excellent work!!!

By pkyvk1e
2016-02-18 06:47:25
Very beautiful and fits perfect.
By ALian67
2015-03-23 19:30:41
I just received this dress today and it is beautiful, customer service was excellent too. I can't wait to wear it on my special day, I will definitely recommend JJ'S House to all my friends and family. Thanks so much for such a quality product and service.
By charmaine J
2014-10-24 14:32:08
I bought this dress in May .....and it arrived just over a week after placing the order online - from the UK. still has not worn it yet but am sooooooooooooo eager to do so. it's simply stunning!!! looks far better than many in the shop windows for 4 and 5 times the price of this dress! I took a risk and bought mine online and have no regrets........ I am a 16 and bought the 16plus size as I am a new mom. Fits like a glove...just need to get a sensible padded bra now...... :-)
By Kimberley
2012-12-08 01:03:47
FEATURED REVIEW
the fit was awesome!Fits perfectly to size. Nice comfortable material. The color is also very nice. i hope i can wear it to my weeding as soon as possible
Showing 1 - 6 of 6 Items
1