Out of Stock
Ball-Gown Sweetheart Floor-Length Tulle Wedding Dress With Ruffle Sash Beading Appliques Lace Flower(s)
#13803
Product Reviews
Write a review
egle.siimenson
2015-04-22 22:26:34
This dress is very, very beautiful. The real princess dress. Thank you very much!
devon.hickey92
2015-03-30 19:48:38
Absolutely love this dress! shipped in a reasonable time since I had ordered other things at the same time. I am fairly tall and a little curvy so I was a little worried about the fit but I did a custom size and if fits perfectly. Can't wait to wear it for my big day this August! The beading is gorgeous! I recommend this site to anyone looking for an affordable dress and great quality!

lbrazdzionyte
2015-03-12 05:19:45
Amazing dress, good quality!
Linute
2015-03-12 05:13:55
I've got my wedding dress after less than month I placed ordering. I cant believe that I bought for such a funny price sooooo amazing dress in sooooo good quality!!! Customer service staff was friendly, answered all questions. That's a dress I've always wanted for my weddings, I am so happy! Recommed JJHouse 100% !

CassieJackson
2014-10-25 01:53:54
The price of the dress is reasonable and the fabric is also very soft. The overall design of the dress is amazing. I will recommend your website to my friends.
Thank you very much for your help.
hwalker1982
2014-10-21 08:04:06
I couldn't be happier with the customer service, pricing and quality of my wedding dress bought from JJ's House.

Being a bride on a budget, I was a little nervous about ordering a dress that I had never seen and knowing that I would not have the opportunity to try it on. I felt I was taking a massive risk, and have to admit to feeling very apprehensive when I pressed the purchase button on check-out at JJ's House. Therefore when I received my dress (very quickly), I was completely overwhelmed by the outstanding beauty of such a perfect dress, JJ's House had totally exceeded my expectations.

Trying on my dress was truly a magical moment, and I knew instantly that it was just what I had hoped for and more! I was (and continue to be) amazed by the intricate design and attention to detail. The dress was an absolutely perfect fit, and I did not need to make any alterations - another massive saving! I purchased the petticoat in addition to the dress, and this complimented the several layers of material, preventing me from stepping on the dress and creating the full shape I had wished for.

Following a heavy night of partying and having been dry cleaned, my dress is still in 'like-new' condition, meaning I'll be able to keep my dress for years to come.

I'd like to thank JJ's House for adding to my perfect day with this perfect dress. I was so happy, I even returned to the site to buy my wedding shoes, which were also fantastic value and perfect in every way!

I have recommended several friends, family and work colleagues who have since had equally pleasing experiences of your service and products, and I will continue to do this in future.

Thank you
Hannah
(England)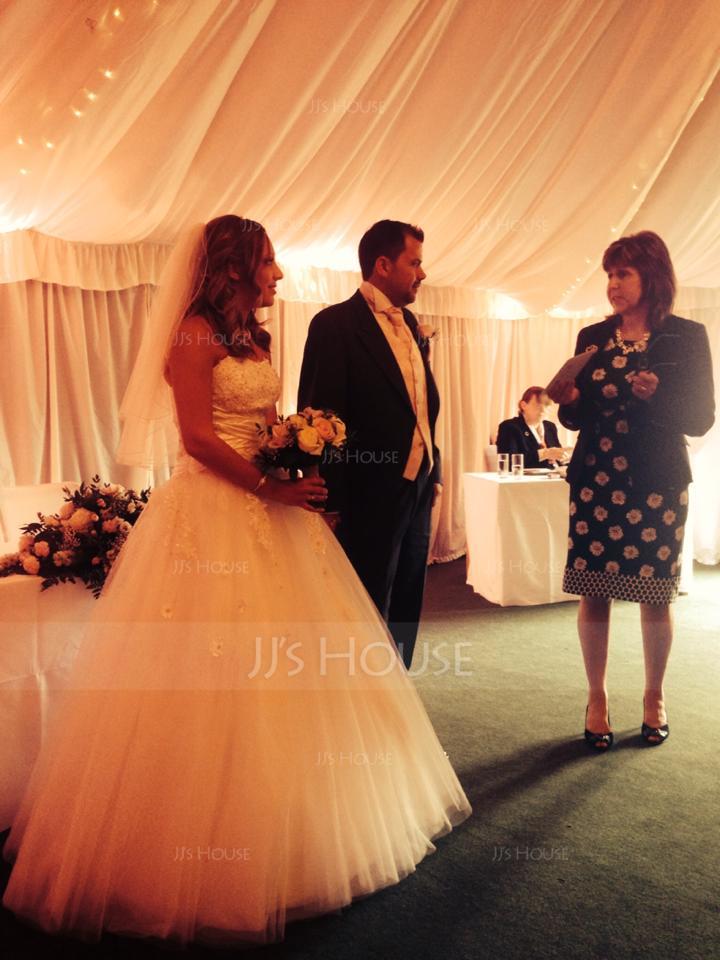 Astrid1278
2014-10-21 00:06:42
Hi, JJsHouse

I am writing here to express my appreciation. The shipment is faster than what I have expected and the quality of the dress is also great. In a word, I am very satisfied with my purchase.

I will recommend you to others.
Sandi
2014-10-16 02:44:51
I cannot wait to wear this gorgeous dress. It fits me perfectly and makes me look like a lovely princess. I like the tulle fabric because it can add much beauty to this dress. Many thanks.
Amanda
2014-10-15 23:30:41
I am impressed by the fast shipment and nice customer service. I had asked many questions before I placed the order and the customer service representatives replied all the questions patiently. Love this dress.