Customer Reviews
Out of Stock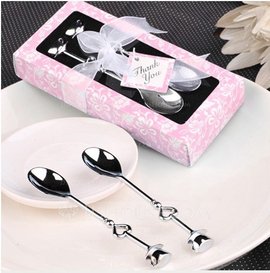 Classic Stainless Steel Teacups Spoon Set With Ribbons
#051007577
50% OFF /
List Price: £4.23 Save £2.11
By detelinaborislavova
2015-07-08 09:31:26
Hello,
Spoons are not (tsp), they are stirrers for coffee, much smaller.
Very nice packed, I am pleased by the ordered.
Good for wedding souvenir.
By cicinho.suzart
2014-10-15 18:06:19
gostei,veio de acordo com o anuncio.
By maryodonnell
2014-06-10 03:29:23
Looking at your selection of wedding dresses and items i really like the web site I can nearly do alll my wedding day shopping on line
By Beatrice
2013-11-14 02:06:00
FEATURED REVIEW
To be honest, this spoon set is truly a good bargain. Regardless of the fact that similar ones are also available on other sites,so many people still place their orders here. The reason is obvious, the prices are much more favorable here and the service here is brilliant!!
By Sabrina
2013-08-05 02:17:45
FEATURED REVIEW
The design of the spoon is very special and I really love it so much, My little daughter now use it to eat, she said it is very convenient .
By Marie Lefebvre
2013-07-30 02:41:48
Th spoon set arrived my home at last, i should not have chosen super saving shipping it made me anxious, but the spoons are really nice
By Ethel
2013-07-29 00:08:02
FEATURED REVIEW
this small item is very useful and considerate!! I really hope that by sending them to our guests they will all be able to share our happiness, thanks for such good service and wonderful products!!
By Althea
2013-07-27 23:02:58
FEATURED REVIEW
hi,there.i got the spoon ordered from you site.Very lovely and in good quality,very hard stainless steel.Perfect little gifts for my wedding guests.By the way,very good service.Thanks a lot.
By Salome
2013-07-24 01:16:19
Your website really has a large collection of wedding favors. Husband and I talked about it for a long time and at last we chose this one. The spoon are really cute. Only about 2 weeks after I placed the order I got it. The package is good, it protects my orders very well. We have so many concerns when shopping, and you give us many useful suggestions. Thank you so much, for everything.
By Tina
2013-07-19 21:11:35
FEATURED REVIEW
I saw this item in a local shop. But I did not buy some because it cost more there. The goods sent are as same as those in windows. It is convenient and cheap, why not?