Customer Reviews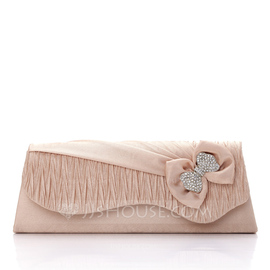 Fashional Satin Clutches
#012027023
List Price: £42.00 Save £30.00
By Simona
2014-05-06 08:13:36
FEATURED REVIEW
Very beautiful clutch and also quite good quality. I'm very satisfied with this purchase and I would recommend it.

By Blanche
2013-12-24 00:51:24
FEATURED REVIEW
wow, the clutch is so beautiful, the quality seems pretty good, and the fabric feels comfortable. it is exactly the same as the picture shows. i have recommended your website to all my friends. Thanks!

Reply by JJsHouse 2013-12-24 22:45:34
Hey there, we appreciate you take the time to review the dress. We enjoy reading reviews on shopping experiences with JJ's House, especially when they are as positive as yours. We take these very seriously.
By Mabel
2014-04-24 00:28:59
Wonderful purse for my bridal party. The ruffles look so natural and elegant. Also it is big enough too hold my touch up makeup and cell phone. I am very pleased~~
By Adrienne
2014-04-18 23:52:25
It is a beautiful evening bag - elegant and worth much more than it cost. The shipping is very fast, especially given that it was being shipped from overseas. I highly recommend jjshouse!
By Iinere
2014-04-08 20:27:07
I always bring down my expections while shopping online. But upon opening my parcel, I found out that I definately have misjudged jjshouse! The cluches looks exactly as it show in the picture. Nice bowknot, well made rihnstones and even ruffles~ You guys are really big stars. You do have my trust!
By Jaciaa
2014-03-19 22:18:47
Good quality!Fast shipping!Tks:)
Showing 1 - 6 of 6 Items
1