Customer Reviews
Out of Stock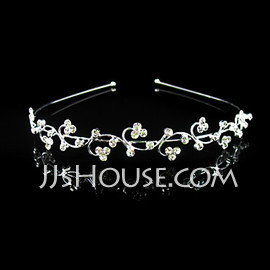 Gorgeous Alloy Headbands
#042024276
List Price: £32.00 Save £16.00
By Hannah20
2014-04-30 01:06:56
It is the same as the picture shows. It is the one that I was on the hunt for.It worked on me and exceeded my expectations. Well worth the money.
By Fannie369
2014-04-18 04:09:27
The headband is beautiful. The quality is pretty good. Thank you.
By Daniel
2013-11-18 00:54:54
FEATURED REVIEW
This is really a beautiful headband. I love the shining flowers on the headband. And the price of it is very low, which is worth buying. I will use it to match my new hairstyle. hope to buy more from you.
By natalie
2013-11-13 01:44:14
FEATURED REVIEW
Wow, really quick to receive the items Love it so much. Beautiful hairpiece. well made, good value and absolutely stunning. Just could not believe how affordable it was. I am so pleased with the order here. Thank you~ LOL
By Beenle
2013-07-30 00:53:50
FEATURED REVIEW
Great! I love the headhand! the quality looks really good, and the crystals are also clear. It is really a happy experience. Thank you very much
By Keyth Héllen
2013-07-27 02:15:57
FEATURED REVIEW
I am very pleased with the product ordered here, just like the photo., Great delivery and I ordered several items and received all in scheduled dates. Really a trustful website to buy. THANKS :)
By Donna
2013-07-24 02:00:05
FEATURED REVIEW
i love the headpiece so much, i bought it for my sister, and she is also happy with it. Her wedding is in August, and she is ready to wear it at that day. Thank you so much
By Calgary
2013-07-24 01:00:52
FEATURED REVIEW
AMAZING! just what i was looking for - nice and simple whilst being elegant. I am talking with my hairdresser on how we can arrange my hair so i can use this beautifully on my big day :) I think it will work well on me. Thank you!
By Tonya
2013-07-21 01:26:10
FEATURED REVIEW
I was satisfied with the speedy delivery .It was light and very easy for me to adjust the size. It also matches my wedding dress and I am urgent to wait for my big day to come!