Customer Reviews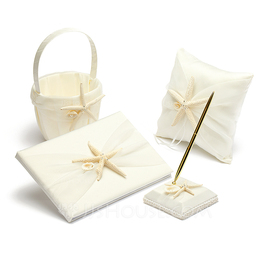 Gorgeous Collection Set in Satin With Starfish and Shell
#100037504
List Price: £78.00 Save £39.00
By jess875
2014-07-22 21:04:31
FEATURED REVIEW
LOVE! all great condition at an excellent price and all individually wrapped which is also a plus. I am so very happy and would recommend this to everyone :D
Reply by JJsHouse 2014-07-23 01:45:39
Dear jess875,
Thank you for sharing your experience with JJ's House. We are delighted to hear your positive review of your order. JJ's House turns your fantasy into reality by providing exceptional couture fashion and impeccable design at affordable prices.
By Ibomugonma
2014-04-28 02:45:34
This product is so wonderful and I like it so much. Good customer service and fast delivery. I will buy more from your website in the future.
By Marcia3648
2014-04-21 03:56:19
Items are truly made according to the picture. Highly recommend!
By Jill369
2014-04-19 02:48:34
The collection set is exactly what i want. Thank you for your good job.
By lee.ingram7
2014-04-06 14:20:57
The set is simply beautiful! It is perfect for my upcoming beach ceremony on the Gold Coast in Australia.
By Holly
2013-12-15 23:25:44
FEATURED REVIEW
I am one of the regular customers on this shopping website. I have had more than one happy shopping experience here. To me, this is not only a place to shop but a heaven for customers where they will be regarded as the gods. This website is full of respect and politeness. I will continue to be a fan of it.
By Bert
2013-12-08 00:01:52
FEATURED REVIEW
Five star! These things are lovely and cheap. I am so excited to get my package. My big day is approaching and i am so happy with your fast shipping. That help me relieved! I will share my happiness with your on my wedding in a few days! bye now
By Debie
2013-11-21 22:24:13
FEATURED REVIEW
I am more than happy with it, my future wife love it. the detail on the basket makes it look so cute. prices are very reasonable and the products are great
By Vivien
2013-11-13 02:01:11
FEATURED REVIEW
Just as what is described in the name of the item, the collection set is extremely gorgeous. The theme of my wedding is beach. This collection set is right in line with the theme. I was so happy to find it on this amazing website. The service of the staff here is so considerate and sweet. I will definitely buy my dress later.
By Glenda
2013-10-16 02:47:52
FEATURED REVIEW
this set is wonderful and it is very worthy to own item like this:) delivey is fast and the quality is also very great . they just look the same as they are shown in the picture:) thank you sooo much and would like to recommend this website to everyone!!!