Customer Reviews
Out of Stock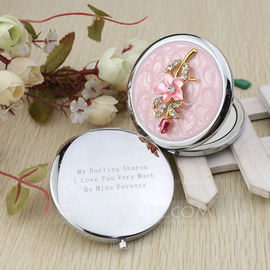 Personalized Flower Design Chrome Compact Mirror With Diamond Rhinestone
#118031895
List Price: £26.00 Save £18.00
By nopg1892
2014-07-08 23:25:46
This compact mirror is easy to carry.
The price is competitive and the quality is high.
Delivery is also fast.
I will recommend you to my friends.
By Amy
2014-06-23 01:12:56
Wonderful on line shopping experience! Excellent customer service! The staff were very nice and professional. I will be a satisfied and regular customer. Thanks again!
By HeloiseHolt
2014-06-04 02:01:13
Very beautiful compact mirrors! My order was delivered very quickly and in great condition. The mirrors are more beautiful than the ones illustrated online. I believe my guests will love them too. Very pleased with my choice.
By MarkHood
2014-05-26 23:36:37
Thank you. The compact mirror is very beautiful. I bought it as a present to my girl friend. She just loves it. Thank you again.