Customer Reviews
Sheath/Column Scoop Neck Knee-Length Lace Mother of the Bride Dress With Beading Flower(s)
#008062563
List Price: £255.00 Save £146.00
By kajedu12
2016-10-30 05:09:13
The dress was beautiful and fit very well. I received many compliments on beautiful the dress was. Just wished I had a petite size to pick from.

By itsthenana
2016-09-21 10:21:08
My review is listed above. Here is the picture of the dress. Very comfortable to wear!
Most important my husband likes it!

By whitediamond
2016-09-12 15:35:44
Brought this gorgeous dress back in April for my daughters wedding just gone. The compliments were overwhelming. Just beautiful in every way.

By angela.evans900
2016-06-20 00:33:51
Dress is well made and is very true to the website picture. Had it made to measure and the fit is good. Zip is a little stiff in one place otherwise I would have given 5 stars. Will be using JJ's House again.

By A.Azzopardi
2016-06-12 02:51:58
Wonderful Job from ALL of you!! I was really satisfied!! I fitted well in that dress!! Good Job to everyone!!

By jcarlisl
2016-01-22 09:20:05
I love this dress! It is very elegant and classy. I have a problem with things fitting me so I paid the $20 extra and had it custom made. I have never purchased clothes online and was very nervous because this is my dress for my daughter's wedding in March. It is everything I had hope it would be and I feel great in it! I also wouldn't normally post a photo, but I thought it might help show just how pretty the lace is.

By nenah89
2015-11-23 04:46:25
Very nicely done! Flattering. I'm giving 4 stars instead of 5 because when it arrived one of the crystals attached to the belt was a bit loose. Otherwise it looked great! I bought it in pink (size 2)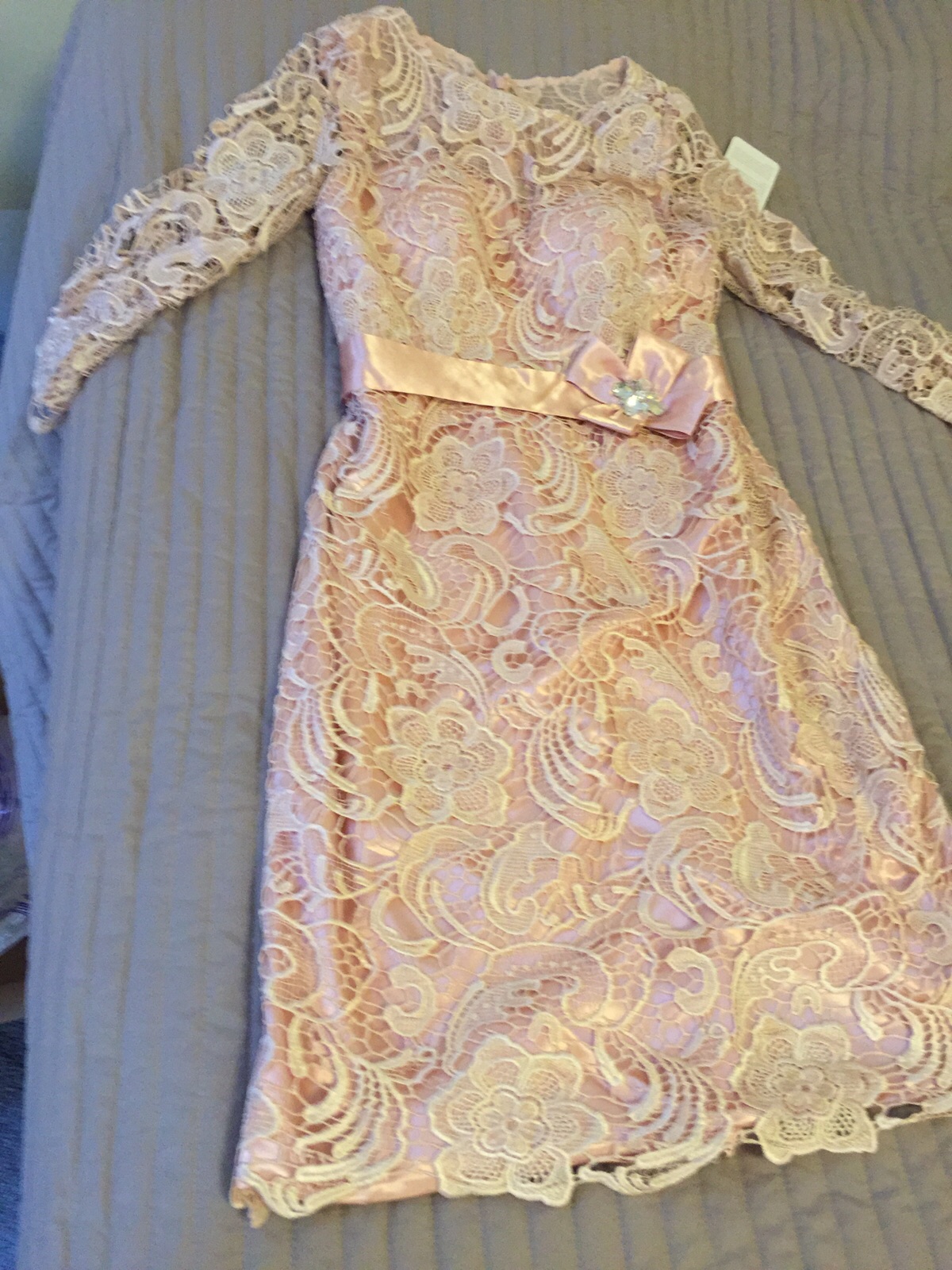 By Amanda Alvarez
2015-11-10 18:08:42
By porourke4
2017-02-03 03:56:17
My dress arrived within 2 weeks of my order. I have never, in my lifetime, had so many compliments on a dress. Thank you so very much for your beautiful gowns.
By itsthenana
2016-09-20 13:58:04
This dress arrived on Thursday. This dress is just beautiful and fits me perfectly! I had the dress customized and am not disappointed in the lace and length of sleeves. This dress is for our 50th Wedding Anniversary. Thank you JJ'sHouse and all your stylists and especially your tailors for making such a lovely, comfortable dress to wear. I will be ordering another dress in the near future, I will definitely tell my friends about your website. Will send picture in a few days.