Customer Reviews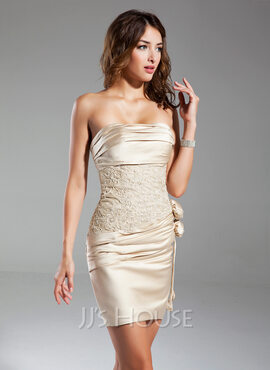 Sheath/Column Strapless Short/Mini Satin Cocktail Dress With Ruffle Beading Flower(s)
#016015329
List Price: £143.00 Save £34.00
By mibebenursery
2016-07-24 02:21:16
By Brittany Nasca
2016-09-22 15:24:57
Love this dress,got it in pearl pink color. Perfect for the wedding I went to. Had to get it taken in some and had the flowers removed from the dress. Would definitely order from jjhouse in the future.
By Nancy_Delgado
2013-11-19 07:16:16
FEATURED REVIEW
I received my dress and I could not believe how beautiful it was! It was very well made. I did realize that I needed a half inch more of room at the top when I tried to zipper the dress because I did not customize the dress I ordered the standard size 4 and to my surprise the dress came with extra material which my seamstress added the little room I needed. She could not believe the quality work of a dress I brought on line. I love the dress and next time I will get the measurements from my seamstress before I order the standard size. I will order another dress in the future.
Reply by JJsHouse 2013-11-25 01:59:31
Thanks so much for sharing the feedback with us, Nancy! I am thrilled to hear that this dress works out so well for you. Yes, our designers are greatly inspired by world leading fashion designers, and manage to provide the most fashionable designs to customers.
By las
2013-06-10 17:48:14
FEATURED REVIEW
I got the order yesterday.i ordered 10 days ago,because every dress of theirs is made to order,so i think it is quite fast.and the dress looks more beautiful than i see in the picture.thank you!
By Ashley
2013-06-09 23:17:41
FEATURED REVIEW
Hello, I bought the dress from JJsHouse and it arrives fast! The dress is so beautiful and it is made of high quality. I like the dress very much. Thank you for doing such a good job!
By tina
2013-06-08 02:26:55
FEATURED REVIEW
Hi, I received my dress! The dress is so beautiful and the size fits so well. I ordered the dress about two weeks ago and it came fast. Thank you for such a good service!
By beatriz
2013-06-03 01:04:55
FEATURED REVIEW
My daughter LOVED this dress! She loved it when she first saw it online, It is sent out quickly and packed well. My daugther gets to enjoy her prom with a beautiful dress and we get to save tons of money.
By Naomi
2013-06-01 02:06:56
FEATURED REVIEW
WOW! Hello, guys, I have received my dress now. It is gorgeous. I had never thought that I could owned a dress in such a low price. The important part is the dress is just for me. Thank you.
By ROXANNE
2013-02-23 01:33:02
FEATURED REVIEW
I ordered this dress in a size 4 for my party and was very pleased with how it fitted me. There was a built in bra, boning for the dress and the dress was beautifully made, and the color was just like the picture! I love your dresses very much and definitely will buy from you later!
Showing 1 - 9 of 9 Items
1