Out of Stock
Sheath/Column Sweetheart Knee-Length Satin Mother of the Bride Dress With Ruffle Beading
#6163
Product Reviews
Write a review
Luanne
2020-02-01 14:47:34
I was very satisfied with the dress. It is beautiful and exceeded my expectations. It is made from quality material, fully lined and has boning in the bust. I love it!

Bianca Jamison
2018-10-03 11:24:35
We purchased the dress in the color champagne. It is absolutely beautiful and was a perfect fit!!!!! It's actually a grandmother of the bride dress and my mom is so excited to wear it!!!!!!!!
mkenchel
2017-07-05 16:20:34
Ordered my dress 10 days ago and was anxious about using this company. Customer service answered my request to change my sizes within the hour even though the order was already confirmed. My dress and shoes have arrived and are gorgeous!!! The workmanship is quality . Thanks JJ's House.
jacky.falkingham
2017-04-19 02:18:17
Sent measurements off ,I was worried in case the dress would be too short but after what seemed a short time in receiving the dress. No need the dress fitted absolutely perfect in everyway, Beautiful colour ,Would definitely buy again Marvellous
Barbara.taylor
2016-09-26 01:18:04
Arrived within the days stated, great quality and fit.
Pat Rivard
2015-10-25 23:37:48
Excellent quality and fit. Mother of the Bride dress that was a real show stopper! 2nd from the right. Navy blue, short ribboned satin dress with bolero jacket.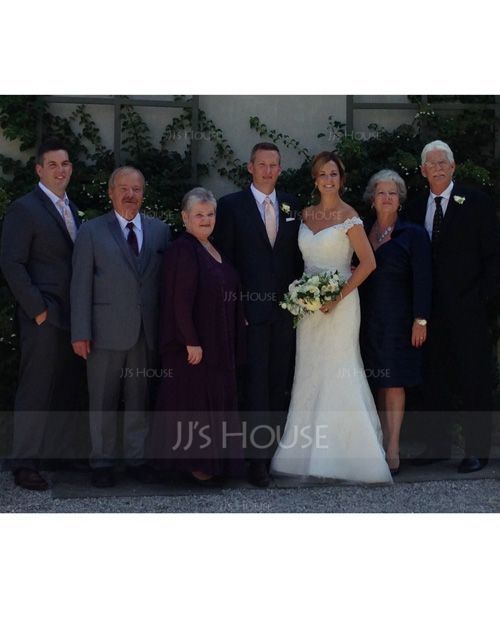 evah ncube
2014-11-26 19:59:26
THANK YOU FOR PROMPTLY REPLYING TO MY ENQUIRY REGARDING THIS DRESS.I AM PLACING THE ORDER NOW.

Regards,
Evah.
joan_belfitt
2014-07-09 22:21:51
I ordered this dress and came in record time 12 days from ordering it to receiving it.I was terrified of ordering it in case it was wrong didn't like and all that I could have saved all the worry because it is beautiful and fits me perfect.Thank you so very much I will be ordering again.Joan
u.biteme
2014-06-22 14:48:14
I ordered this dress for my mother to wear to her granddaughter's wedding, and I was very nervous! This was my first purchase from JJ's House, had no idea what to expect so I took a huge gamble. Luckily it paid off, although there was one glitch. My experience with the seller's customer service was great, I contacted them twice after I placed the order regarding my concern about the size (I did not have the dress custom made!) and speed of delivery (I was pressed for time). They reassured me that delivery would be on time and responded to my questions re the size. My mother is a size 20-22 (U.S.) depending on the cut and material of the dress. I purchase this dress in size 24 (satin has less stretch than other fabric, and therefore unforgiving). The dress fit but the Jacket did not; my mom could not get her arms through the sleeves. As disappointed as we were about that we loved the dress: fit, color etc. and we had ran out of time so we found an alternative (see the picture) and had happy ending.
ea.enchill
2014-04-08 16:17:38
I received my dress and absolutely love it. It stylish and fits me so well. I must say I am pleased with my order and I will be ordering more dresses in future. thanks