Customer Reviews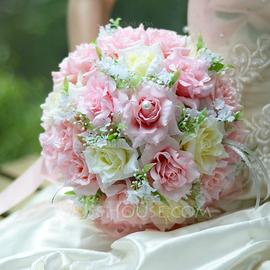 Sweet Round Satin Bridal Bouquets
#124032102
List Price: £31.00 Save £10.00
By yuliya.australia
2015-07-05 05:57:30
By Janelle
2014-09-23 17:52:17
FEATURED REVIEW
Awesome! I just got my order and wasn't disappointed! Those flowers are really beautiful. The color, as some said in the other reviews, vary a little bit from what was on my screen but that's normal. I'm really happy with my bouquet, they will go wonderfully with my wedding dress!

By hosoglufatos
2016-07-24 09:39:53
By tvbrown2003
2016-04-13 06:28:40
The flowers are beautiful and I can't wait to walk down the aisle with them
By invest7040
2016-03-15 13:09:41
I got the beautiful pink and ivory bouquet today! Right out of the box it was picture perfect. I am used to getting things through the mail that need some fussing to make them look as good as they are pictured, but with this bouquet it was wonderful without any adjustments. All I had to do was just admire how lovely and pretty it was. JJ House you have made me so happy. Thank you.
By alyahthabit
2015-04-14 01:05:29
Lovely lasting bouquet :) loved it
By libbie57nc
2015-04-04 15:30:16
By tyradaniels34
2014-08-11 16:53:05
FEATURED REVIEW
This bouquet is perfect. I love the color. I was looking for something a little off from my wedding party colors. And this bouquet was the right choice. Its not to big or small. and I love it . My wedding day is 5 days away and I just wanted to say thank you so much JJHOUSE for all that you put in to make my more special. I will let all my family and friends no where all my wedding dresses from my dress to all three of my girls dresses came from JJHOUSE.. Also from my garter to my ring box, my flower girl and her rose petals came from JJHOUSE. I received everything I needed and wanted from right here.Again thank you so much for taking my special day so serious. I want any one to read any of my reviews to no your in good hands with dealing with JJHOUSE.
Reply by JJsHouse 2014-08-11 20:35:39
Hey there, we appreciate you take the time to review the dress. We enjoy reading reviews on shopping experiences with JJ's House, especially when they are as positive as yours. We take these very seriously.
By jelly
2014-04-26 03:07:00
The Sweet Round Satin Bridal Bouquets went well with my wedding ceremony! By the way, There was no problems with my order. It arrived in perfect condition and sooner than I expected.
By Kitty77
2014-04-17 01:57:00
The bouquet is pretty. Both my husband and I like it so much. The price is really reasonable, and the quality is great. I have recommended your website to all my family. Many thanks.