Customer Reviews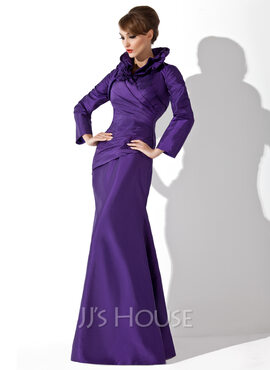 Trumpet/Mermaid High Neck Floor-Length Taffeta Mother of the Bride Dress With Ruffle
#008006080
List Price: £445.00 Save £319.00
By jones_barbie
2015-12-07 11:35:31
Very pleased with expedite, 10day custom delivery. The quality of the fabric(taffeta) and superior workmanship. I will definitely look amazing as mother of the bride!
By mrsywt
2015-05-01 07:51:59
Beautiful, elegant and hip! Love this dress!
By hbabb
2013-11-24 07:19:57
FEATURED REVIEW
There were some problems with my order, but JJ's House is working with me to try and resolve the problems. Perhaps, I can write a better review when things get resolved!
Reply by JJsHouse 2013-11-25 01:52:58
Hi Hbabb, we are excited to hear you were impressed with us! It is our responsibility to ensure our great service.
By prieta2004
2013-11-20 07:46:53
FEATURED REVIEW
Nice dress, the fabric did not seem that good of a quality like it is on the picture.
By Mona Attia
2013-02-04 12:31:04
FEATURED REVIEW
I am happy with your service and prompt responses. I will wright another review once I get my orders
Showing 1 - 5 of 5 Items
1