Customer Reviews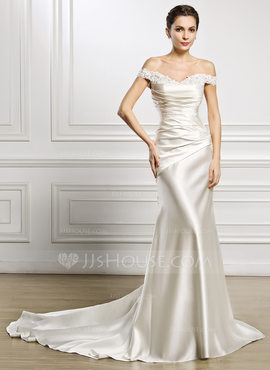 Trumpet/Mermaid Off-the-Shoulder Court Train Satin Wedding Dress With Ruffle Lace Beading Sequins
#002056987
55% OFF /
List Price: £339.00 Save £180.00
By Giggggles
2016-11-17 19:55:09
I was a little skeptical to order online..I am so glad that I did!!! The dress was gorgeous! It came fast and I even did a chat before I ordered. Thank you so much!!

By julia.rakitina
2016-09-08 23:52:40
I satisfied with this dress. It sits good and looks good :) But for skinny ladies )))) Unfortunately I don't have such thin waist like model on the picture ))

By gabiasturias
2016-02-15 06:27:00
This was a really pretty dress. It was surprisingly amazing quality. It was a lot thicker and heavier than I thought it was going to be, which made me happy. The most important thing about buying a wedding dress online is to have the understanding that it won't be mailed to you perfectly altered. I did give them my exact measurements, but some things still needed altered and that was to be expected. Overall it was a gorgeous dress. With the way the shoulder straps laid, it gave the dress a unique look. It was definitely a happy purchase.

By Cynthia
2015-11-19 13:12:22
I wore the champagne version of this dress on my wedding day in September 2015. It was absolutely gorgeous and perfect for a wedding in Central Park. Thanks JJ's Team for making the perfect dress for my wedding!

By Venus.leeliet
2015-09-13 19:46:29
By Jessica K
2016-12-08 09:27:04
This dress is stunning! I almost didn't order it because I was hesitant to order a wedding dress online but boy am I glad I did! I sent in my custom measurements and it fits perfectly! I don't even need to have it tailored. The delivery was quick. It was packaged well. No rips or tears or missing sequins. I am 100% satisfied with JJ's House!
By maddon68
2016-09-15 05:34:27
this wedding dress was absolutely perfect , great quality and amazing processing and shipping time definitely found a winner thank you
By armmadden123
2016-03-15 04:00:00
I was dubious about ordering a dress online however, dress arrived within 2 weeks of ordering and it is like the pictures. It fits very well. I had it custom sized. I am very happy with the dress and would recommend jjshouse to other people.
By Voight70
2015-10-21 18:40:33
I was so pleased with this dress when it came. It looks exactly like the picture. It is a little big but I was anticipating that. I just ordered from the size chart and did not do the custom sizing. I was so nervous ordering a dress on the Internet for such a special day but I am very pleased! I will feel beautiful on my wedding day! Thanks JJ's House!
By harriscyn
2015-03-22 08:23:01
Better than expected! The quality is exceptional. I ordered the gown in champagne and was not disappointed. For those of you concerned about ordering online and out of the country - JJs House is a professional operation and the customer service is responsive and quick with whatever questions that you have.

Thanks so much JJs House for a job well done!

Cynthia
Reply by JJsHouse 2015-03-24 03:05:06
Thank you for your wonderful comments about JJ's House. We appreciate your comments about our staff being friendly and helpful without exception. From the beginning to the end of your shopping experience with us, we are dedicated to making you happy.