Customer Reviews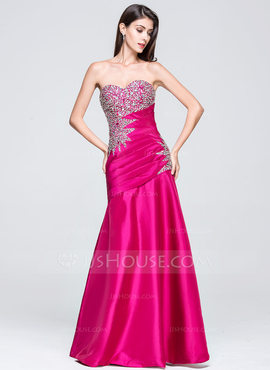 Trumpet/Mermaid Sweetheart Floor-Length Taffeta Prom Dress With Ruffle Beading
#018017528
List Price: £236.00 Save £92.00
By MoonGoddess50
2015-06-04 03:00:06
The dress is exactly like the picture!! I love it but it's too bad when I choose a size by going by my measurements it was a bit big for me :(.. Well it fit my bestie perfect so she can get it and just buy me another dress from you guys :). But thanks so much still! Really love the dress !

By Klara
2014-12-11 08:39:03
very good quality, and good service, I really love my dress!!! thanks.
By Fwhl
2014-04-08 09:32:35
Love it! Excellent product!
By ClintonClinton
2014-03-26 19:39:12
I love the dress. I just got it today and I have tried it on. It fits me well. It is really a good idea to order the custom size. Although i waited for a long time, it is really worthful!
By Lorraine
2014-03-26 03:54:55
Loved this dress! bought it for my niece's wedding, true to size and length was just touching the floor. Had lots of compliments!thank you very much!! would like to highly recommend!
By Yolanda
2014-03-26 01:31:45
Got the dress and it is beautiful! I will buy more soon!
By Madeline8547
2014-03-14 20:01:51
Met some small problems when paying and their prompt service helped me in time. Now I got my dress and it turns out to be exactly what I expected. The tailoring time is well respected. Good service!
By Lorin
2013-06-15 01:10:48
FEATURED REVIEW
Recently I ordered one dress from this website. The selection of dresses on the website is amazing. When I placed the order, I refered to the size chart and colour chart exactly as specified . It was quite convenient.I will come next time!
By guette
2013-06-10 01:21:20
FEATURED REVIEW
Mermaid dress is really a nice choice for me, as my legs are fat, but my upper body is relatively slim. It helped me to cover the not so pleasant part and underline my upper half. I am very appreciated it. Brilliant! Thank you for making the dress so beautifully-shaped!
By Stacey Ann
2013-05-27 08:22:49
FEATURED REVIEW
So i get my dress today and am so happy, its just like how its in the picture only thing is am size 18 so mine is bigger but it fits so good and it looks soooooooooooooooooooooo good, i am going to order another one for my friend weeding am really happy with my order thanks so much JJ'S i will continue shopping with you always... thanks.