Customer Reviews
Women's Lace Stiletto Heel Peep Toe Platform Sandals
#047066876
List Price: £127.00 Save £85.00
By kingnatasha22
2016-05-28 21:13:00
I absolutely love these shoes. I can't wait to wear them at my wedding. They are just stunning. They fit perfectly, as per the measurement guidelines provided by JJ's House. They appear to be good quality and arrived promptly in the mail. They were packaged to ensure each shoe was protected to the best it could. They are just gorgeous and I love them.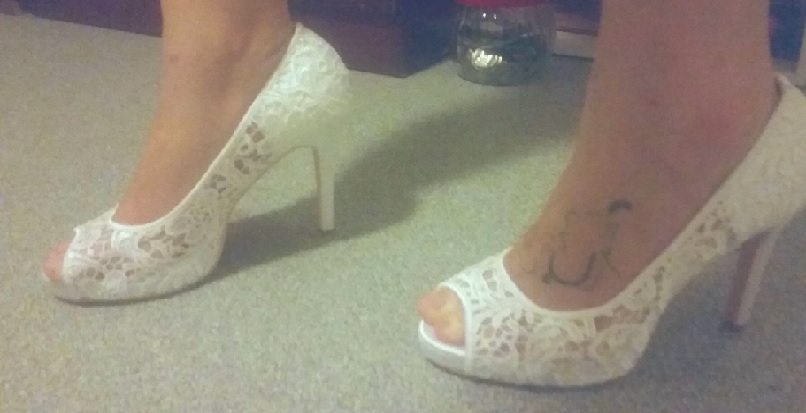 By Tycohn_H.
2016-05-04 02:07:19
I bought the shoes for my wedding. They are gorgeous, surprisingly comfortable. It is a good choice.

I chose the size according to their size chart and the shoes fit me well. Greatly recommended if you are looking for beautiful shoes :)

By Kathrin
2015-07-20 18:15:47
The sizing directions were so helpful! And I'm sure they were the reason why the shoes fit perfectly!!! Thank you, JJS!!

By emailmelanieevans
2016-11-26 05:32:30
Beautiful and comfortable. Shoes fit exactly according to the sizing chart- strongly suggest going based strictly on the measuring, not your current US shoe size. Material is gorgeous and seems durable. Matches my wedding dress perfectly.
By maureenmurphy3
2016-11-15 23:53:19
The shoe was excellent, once the right size arrived! They are not true to size chart; and I ended up having to downsize twice from my normal size to actually get a pair that fits. Not pleased about your return policy as I feel longer than a week should be allowed for returns. However, the shoes were beautiful, and comfortable an your markdown prices made them affordable.
By Crystal124
2016-06-02 18:26:18
By MAX
2016-05-19 22:19:08
By Evanna
2016-05-18 18:20:03
It is beautiful and comfortable!!!!!
I like JJs soooo much coz I can buy cheap and fine shoes here!!


By odiegeorge1568
2015-09-23 08:20:02
this shoes was magical, special thanks to you guys for making my wedding day a memorable one. The fit was perfect exactly the same as the picture no two way about it although i was afraid that i would have gtoten something differently. VERY COMFY.
By mirjam
2015-08-23 18:28:12
Sieht live so aus wie auf dem Foto. Danke!